How to decorate a white bedroom...
Whatever your style of interior design, white furniture will complement your style. Some ideas for decorating a white bedroom including the following styles ... See The White Lighthouse Ideas on Decorating with White Bedroom Furniture
All white bedroom... White furniture can look warming in all white bedrooms, choosing a focal point such as a large headboard, fireplace or window seat creates a bedroom that is luxurious, definitely not cold and unwelcoming. Adding texture is another great way to add warmth, knitted cushions, mohair throws are just a couple of ideas. An all white bedroom is such a lovely, bright and airy style and one of our personal favourites at The White Lighthouse
Scandinavian Chic White... Simple white furniture in the bedroom magnifiies natural light, an essential part of Scandi style. Combining contemporary accessories will create a modern scandi chic room for a restful and tranquil feel. The main look is clutter free, so great storage is essential for this clean and crisp look. An idea on how to decorate is to add geometric bedding and cushions, a gallery like wall with shelves, racks and pictures, but be sure to keep it to the same colours or theme.
Coastal Beach Style... A relaxed coastal style is such a popular choice and another firm favourite of The white Lighthouse design team. Think breezy, bright and airy... white bedroom furniture is a must for this style, particularly the straight lines of our simple New England range. Paint your walls white, a pale shade of grey or blue, add subtle nautical accessories and soft furnishings in whites, blues, greys and sand. Natural driftwood and grey baskets add extra warmth and the paleness works fabulously against the white furniture. Coastal style is timeless and can be as subtle as you prefer depending on your taste. Painted wood panelling creates a charming beach house atmosphere.
See lots more ideas and photographs for decorating a bedroom with white bedroom furniture...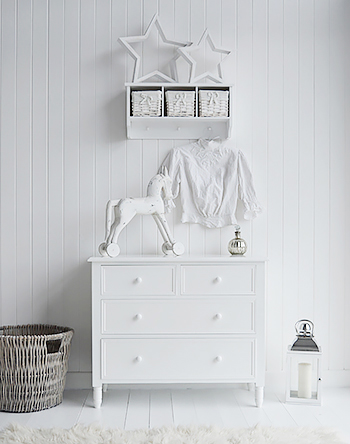 Simple pure white chest of drawers, just as stunning in an all white bedroom as it is in others. The white furniture will contrast superbly against slightly darker walls.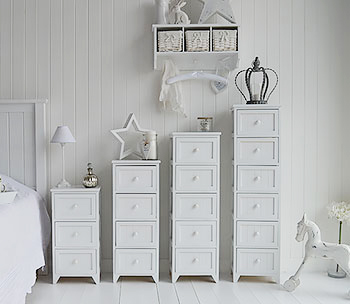 Maine range of white storage chests of drawers, simple and affordable storage solutions for the bedroom. The chests come in a range of sizes from a unit with 3 drawers for a bedside table to a tall narrow for extra bedroom storage.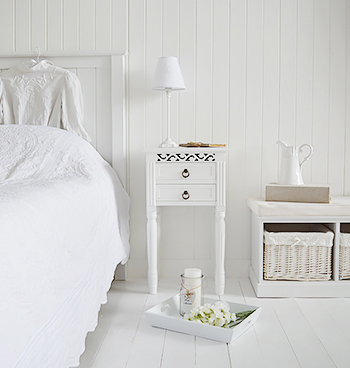 A bedside table is an essential piece of bedroom furniture, in white it will ensure to complement all styles of bedroom interiors and is suitable for all ages for 0-80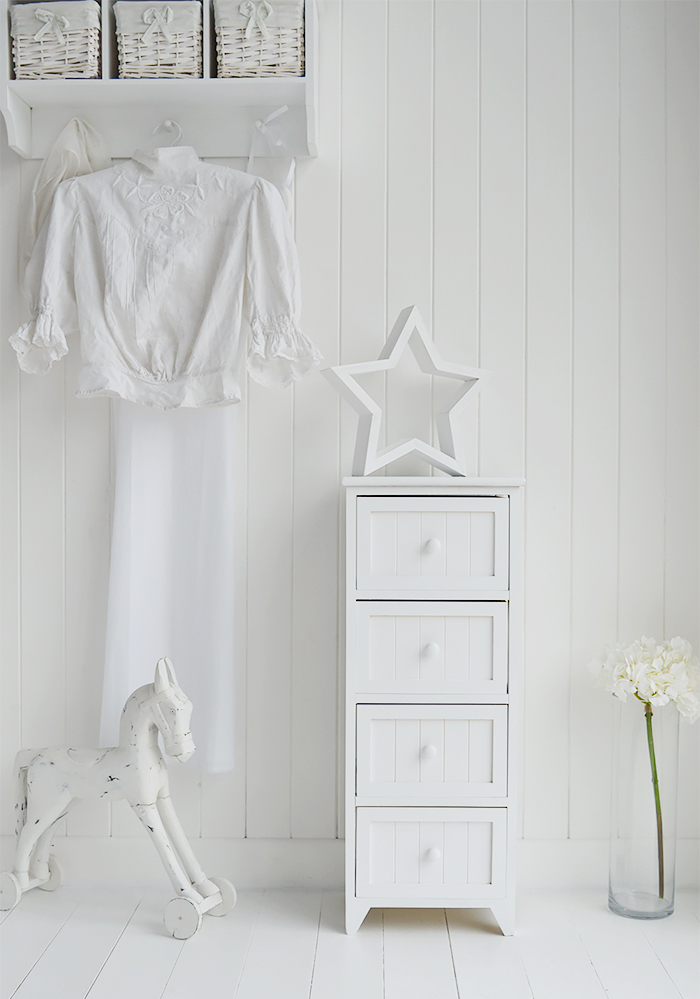 The Maine is a simple but functional and affordable storage drawers for the bedroom. The matching bedside table from this range would complete the look.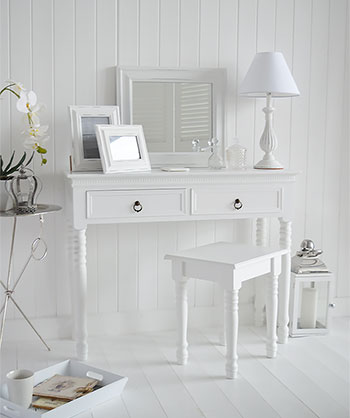 Simple but elegant furniture as a complete white look, this style with the dressing table and stool would look wonderful in any home beaming the reflective light throughout your bedroom.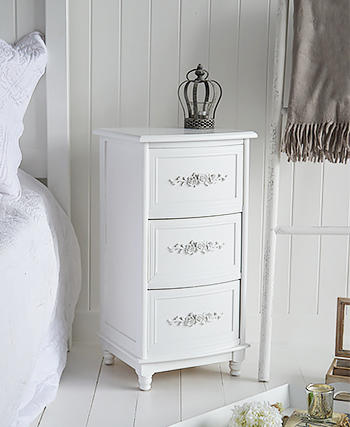 A pretty bedside table will fulfil the look for country cottage bedroom interiors. A special piece with elegantly carved flower handles for a curved frontage to give the typical English floral feel.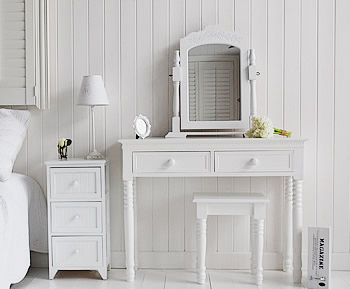 The New England white dressing table for a pure white bedroom interior style. An all white bedroom creates such a refreshing bright and breezy feeling to waken up to daily to revitalize your body and start the day on a high.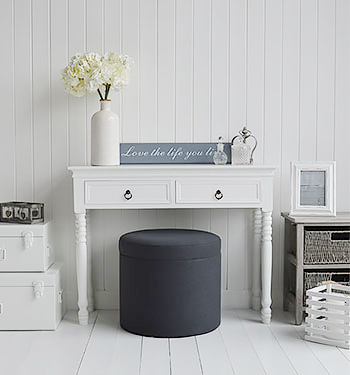 What a great idea... this dressing table stool has masses of storage, looks fabulous with all colours and white furniture and is comfortable to sit at while at your dressing table.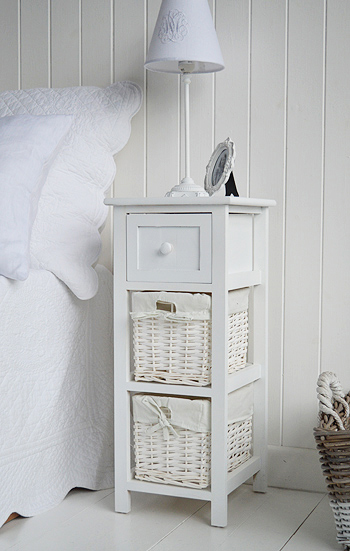 Looking for a narrow bedside table? We know space is everything in your home and we have designed bedside tables to fit into the narrowest of gaps bedside your bed with great storage drawers. We have styles and colours that will complement your bedroom beautifully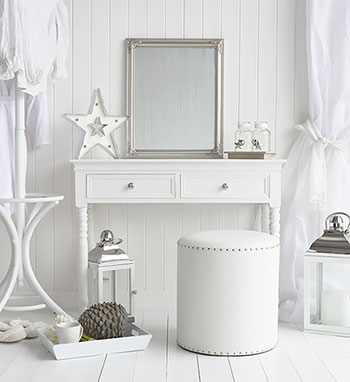 Add a touch of luxury to your bedroom for a boutique hotel look. The stunning stool with silver studs complements the New England dressing table with silver handles so well. Other silver touches in your accessories will bring out the luxurious feel.