The Beach style interior design is instantly recognisable......
How to create a beach house style and coastal home...
1 Allow Plenty of Light into your room - Adding white furniture to your room will instantly increase the amount of light reflected through the room creating an illusion of a great and airy space
2. Make it relaxed - Keep the furniture finishes laid back and homely, keep the room comfortable
3 Keep it subtle - do not go overboard on the beach or coastal theme, this will appear tacky. Subtle pieces like signs or small beach themed accessories such as a small yacht, pieces of rope, or coastal home style lantern will be enough
4 Pale colours in soft furnishings- Pale colours int he curtains and cushions will seem to increase the amount of space... Using the traditional colours of the coast - blues, greys and shades of white in your interior design and furniture choice, you can easily create this dreamy, caming interior style of home.
The White Lighthouse specialises in white furniture, coastal, French, Scandinavian and Country styled interiors
Even within the coastal interior designs there are so many options and styles - scandi, chic, bohemian and industrial
Tips and Advice... Decorating for Coastal and Beach Style Interiors
5 Tips for Coastal Home Decor - New
Ideas on decorating your home in Coastal Decor
20 Ideas on Coastal Interior Decor - New
Ideas on how to style your home in a Coastal interior design
How to Decorate an Elegant Beach Coastal Bedroom...
Ideas on how to style your bedroom in an elegant coastal inspired theme
DIY Coastal Decor Accessories...
Some ideas on creating your own pieces of coastal decor
________________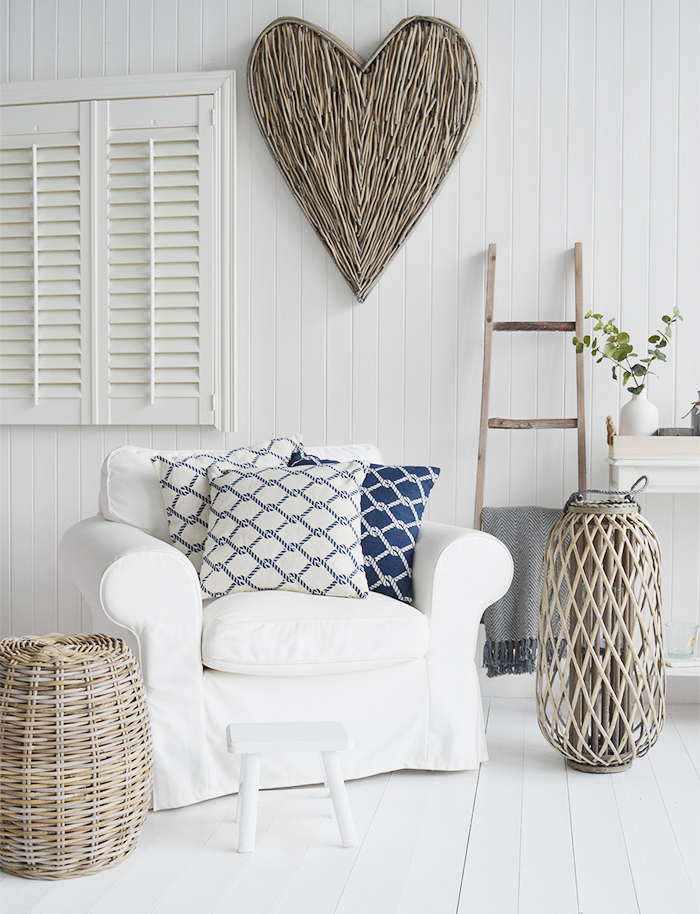 A subtly decorated coastal living room in traditional colours and natural materials to add texture and interest.
Get the look...
Oversized willow lantern £39
Driftwood Ladder £55
Willow stool / Side table £55
Cushions from £15
Colonial white console £100
Grey Willow Heart £48