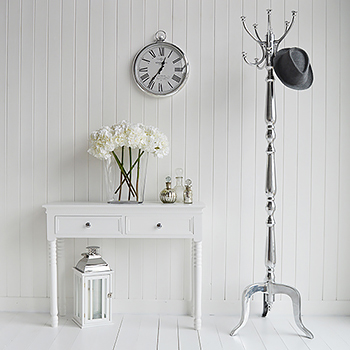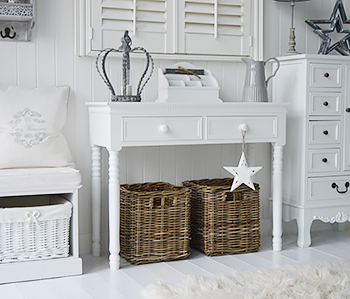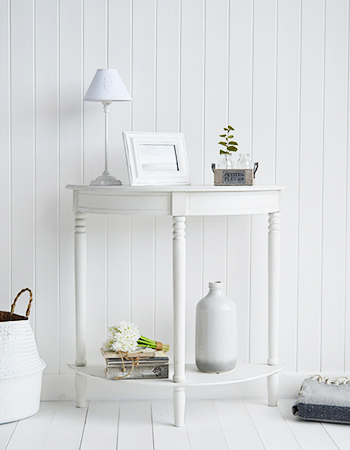 Create the finest first impression by warmly welcoming you and your guests to your orderly, uncluttered home with our range of entrance hallway furniture. Browse our range of small hallway furniture, console tables and hall storage for UK delivery
White bedroom furniture is a classic choice for every style of room. It has become such a popular option over the years as a timeless addition to all bedrooms that will last for years. Even as your tastes evolve over time, changing accessories and soft furnishings will ensure your bedroom will change with you. Choosing white furniture for childrens bedrooms is an excellent choice for exactly this reason.
The White Lighthouse offers a range of Living Room furniture including coffee tables, lamp tables, console tables and various storage furniture. All our pieces are chosen by our design team to bring the unique style of The White Lighthouse to your Living Room, while importantly providing functionality as well as exquisiteness
We offer an extensive range of simple, elegant white bathroom cabinets for your bathroom storage. We believe a bathroom should be a well organised, clutter free stylish room.
Our wall mounted cabinets allow you to have storage that does not take up essential floor space, a mirror on the wall will reflect the light and offer a place to apply make up or shave.
White home decor accessories to decorate your home, we hand pick all our home decor pieces to ensure they beautifully complement your home, whether it is in your bedroom, bathroom, living room or hall, we have stunning pieces for all interior design styles.