Why is it an essential piece of bedroom furniture?
...The bedside table comes in so many styles colours and sizes, so we offer a wide range to ensure one is suitable for your bedroom. Our favourite is of course a white bedside table, a firm favourite that will complement all styles of bedroom interiors.
Looking for a narrow bedside table? We know space is so important in your bedroom and we have designed bedside tables to fit into even slim gaps bedside your bed with great storage drawers. We have styles and colours that will suit your bedroom beautifully. Our narrow and slim bedside tables at 25 cm wide will most difinitely fit your space.
Which do you prefer, a table or a cabinet? Depending on your needs for storage you may prefer a cabinet with drawers or a table with a shelf, purely for a bedside lamp or a place to set your tea in the monrings. A cabinet offers masses of storage for everday items and removes the clutter for a stress fre bedroom. there are plently of different versions here to browse through in varying shapes and sizes.
What style do you prefer? Whether you prefer traditional, coastal, scandi chic, pretty floral, cottage, french or danish we have a style to suit your bedroom and are always adding new tables so be sure to keep coming back to look.
Here are a few of our favourites...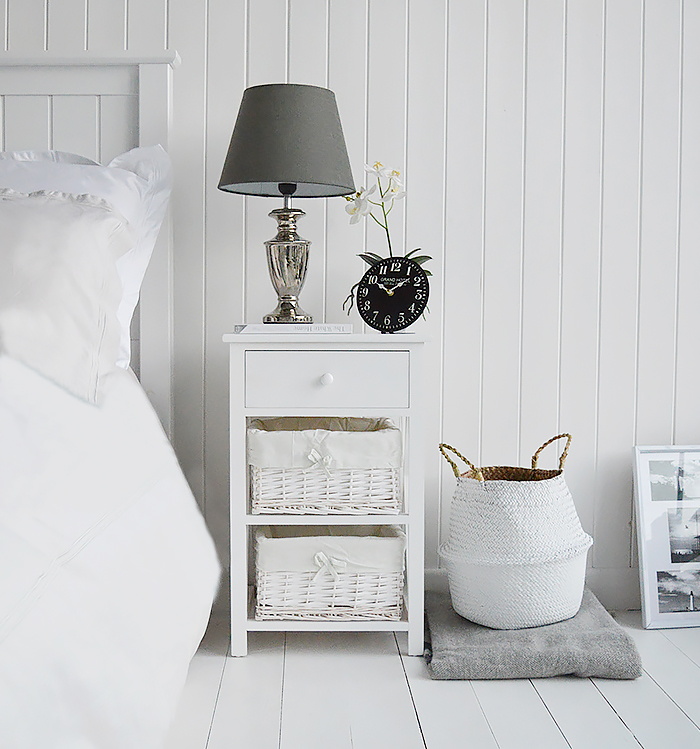 New Haven white bedside table in a simple design with 3 drawers to complement all styles of bedroom interiors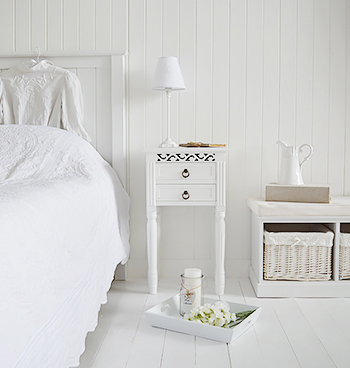 New England white bedside table with 2 drawers and a pretty design to match any bedroom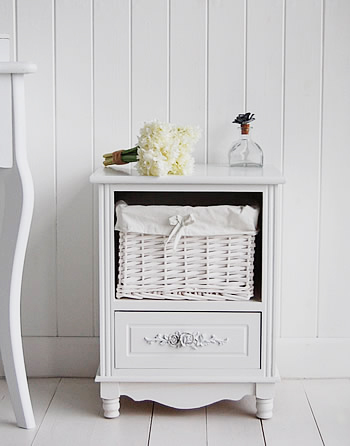 Pretty Floral English Rose White Bedisde Cabinet with a drawer and large basket