The casual carefree coastal style is just perfect for a bedroom with the relaxed feel for a place to unwind after a stressful day to ensure a peaceful nights sleep.
The beach coastal design in a bedroom can vary massively. We want to help you create an elegant bedroom, while there are no hard and fast rules for decorating a bedroom in coastal theme, it can quickly become quite tacky! We want to help you have the classy bedroom you deserve and enjoy retreating to at the end of the day.
Tips and Ideas...
1. Decorate using the colours of the coast, mainly varying shades of grey, blues, whites and creams.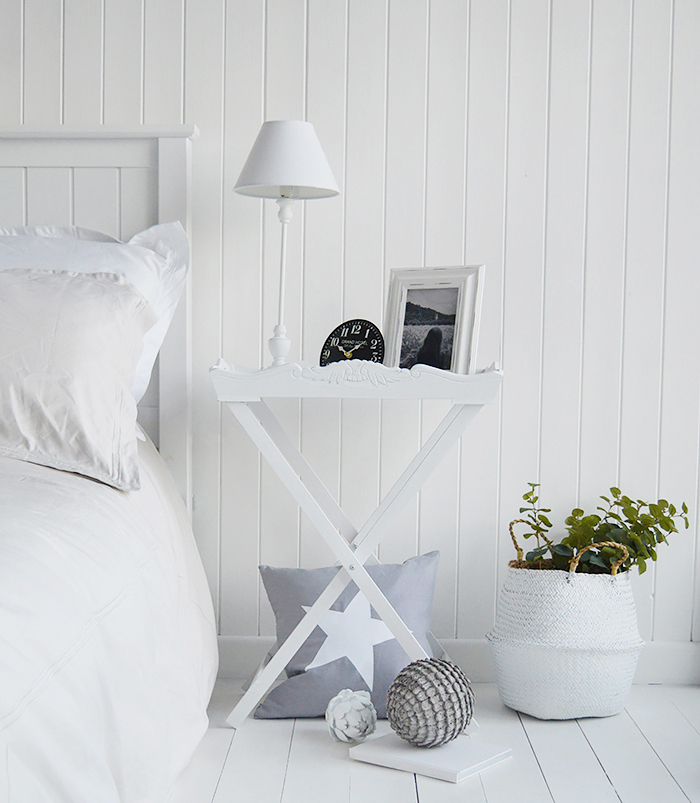 Get the look... White butler tray bedside table £36, Kingston white baskets £27, New Hampton Cushion £39, Artificial Greenery £6
2. Slightly distressed furniture works best for coastal interiors, to resemble weathern worn wood beaten by the endless waves.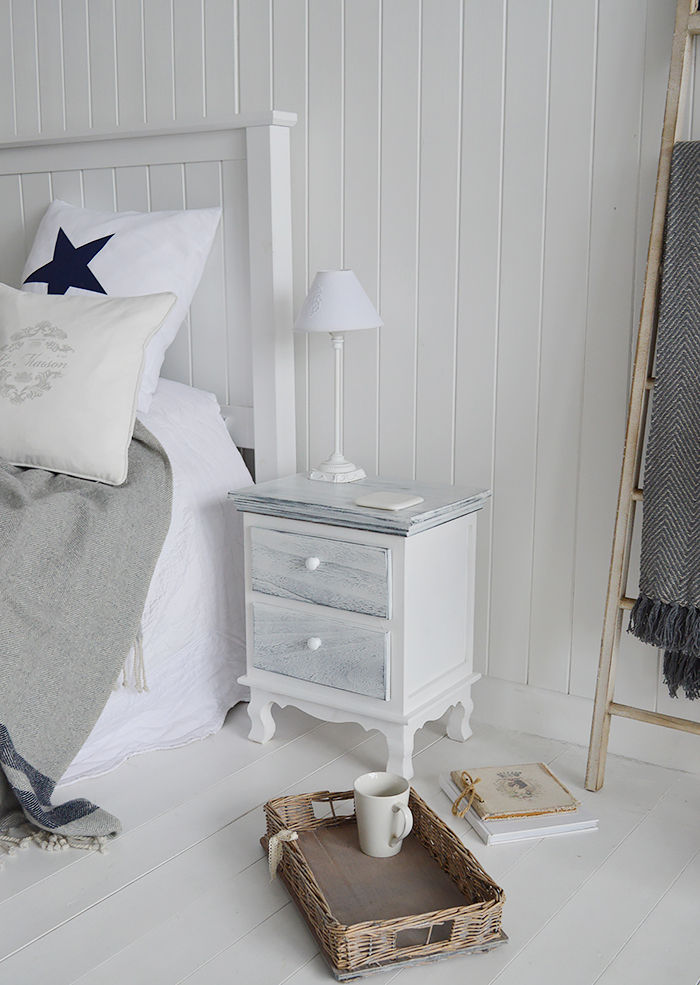 Get the look... Our Shoreham Bedside table £45, Dorchester balnket ladder £38, cushions and coastal decorative items
3. Include natural materials such as bamboo, rattan, seagrass for furniture and accessories. Wood and rattan create an immediate coastal feel... our Casco Bay stool or side table is a perfect example.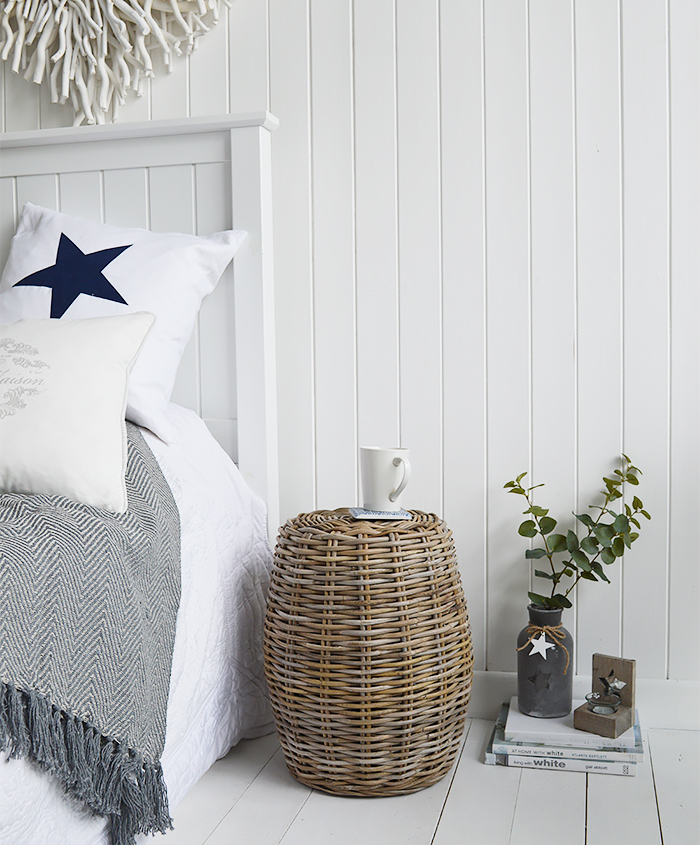 Get the look... Casco Bay stool £58, cushions and coastal decorative items
4. Choose pale or light pieces of furniture... white furniture is absoultely perfect in a coastal inspired bedroom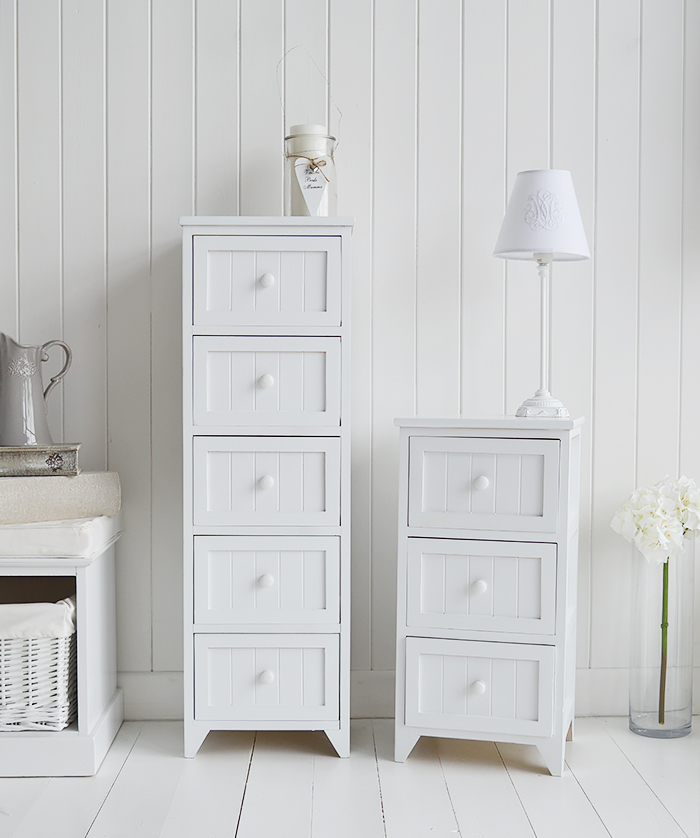 Get the look... Maine white storage chest of drawers from £52
5. Mix and match furniture items, no pristine look here!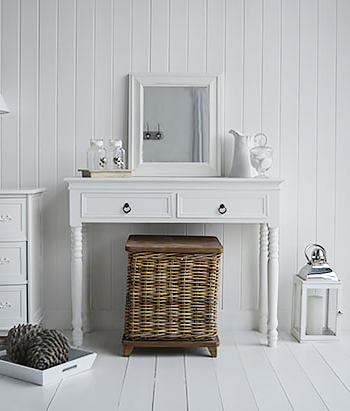 6. You want imperfection... informal styling and beautiful rustic natural finishes... Our driftwood table gives the informal relaxed style while still looking fabulous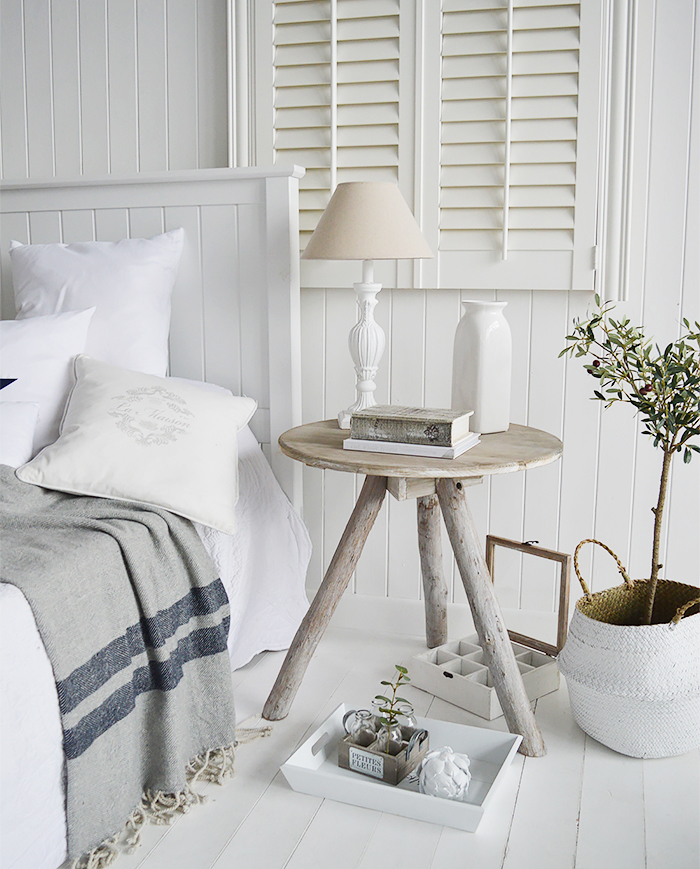 Get the look... Driftwood bedside table £79, Kingston baskets £27, white lamp £38 and various cushions
8. Plantation shutters are a great way to give an instant coastal look for bedroom windows while giving instant elegancy
9. Large wall decor pieces made from natural materials are a creative way to fill a wall. The chunky wall twig heart £48 is large and rustic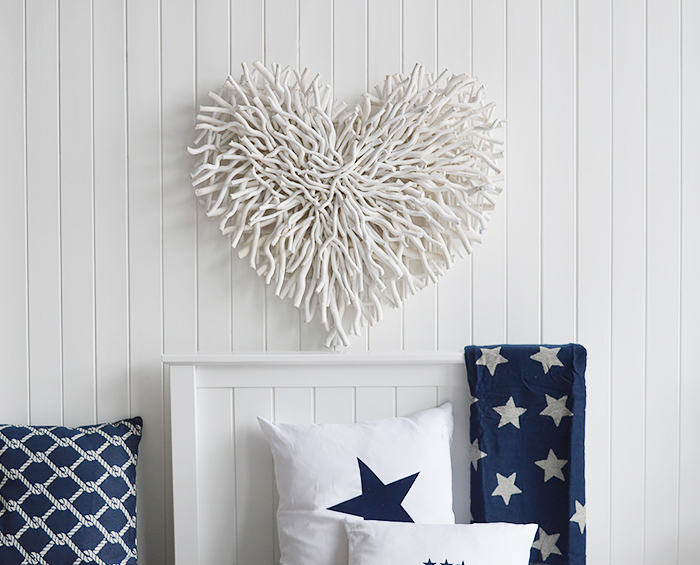 Article by Leah Matthews
Interior Designer at The White Lighthouse
_________________________________
Other articles on Decorating in a Coastal Interior Design
Coastal and Beach Hallway Furniture
Ideas for decorating hallways in Coastal and Beach Homes ...
New England Hallway Furniture
Ideas on decorating your hall in typical New England style
Style Your Console Table
Ideas on how to style your console table
Top 5 Tips for Coastal Home Decor
Tips on how to decorate your home in coastal style