How to style a console hall table...
After the labour of love that has gone into deciding and purchasing your console table, hallway or sofa table, either for the hall or your living room, it is important that it is styled in a way to suit your room interior and function as need it to. Whether you want it to be a centre piece in your room or it to blend quietly in, how you decorate it will determine this.
We have put together a short list on how to decorate your console table...
1. Add a Table Lamp
Adding a table lamp is not only functional but can determine how you want your table to look. A single lamp is a great addition for a casual look, adding a pair is a more dramtic look to create a centre piece in the room. You can see for the photographs below the difference in the style. Choosing the lamp is another big decision in itself. Do you want a tall, small, what colour, what width, what material? in the end this is down to personal taste but ensure it follows through with your interior design.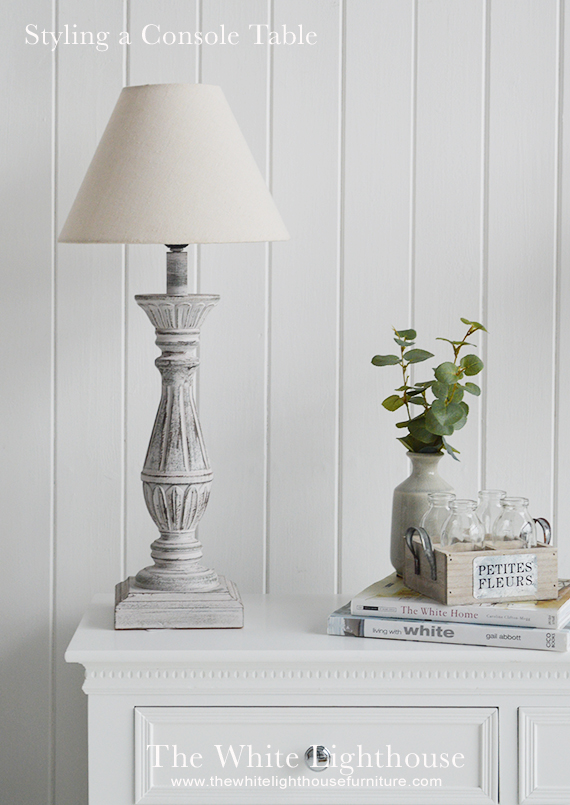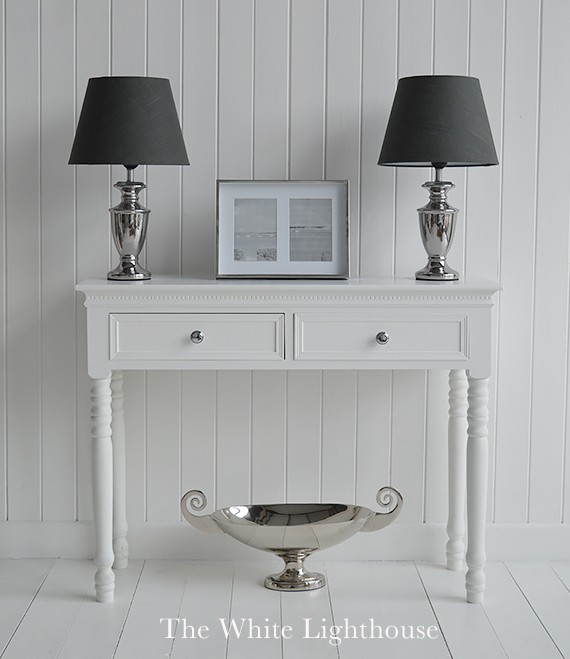 2. Use a Tray
Use a tray on your table to group together home decor pieces, this gives a more definite feel to your decor and looks very stylish.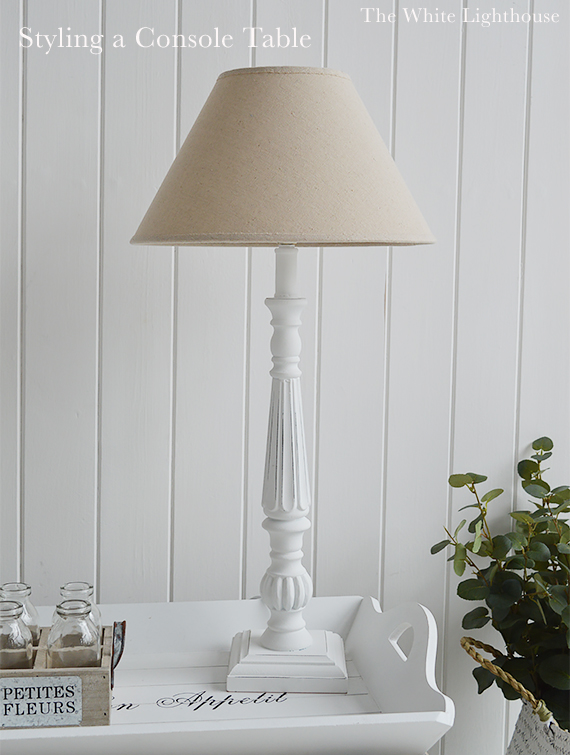 Group together a lamp with home decor pieces on your table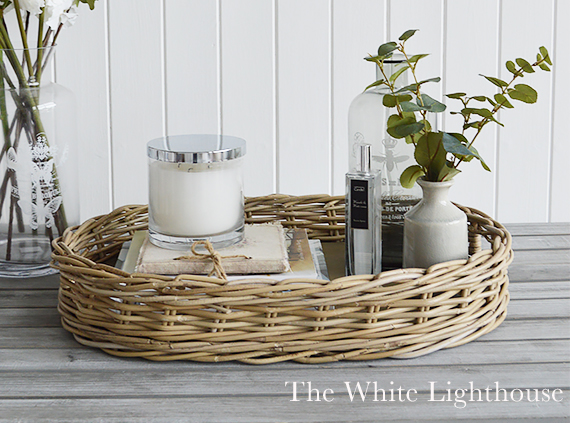 Group together books, decor and candles on a large tray
3. Use Books as Display
A combination of books, commonly known as coffee table books, artfully placed is a must for lovers of interiors, these add to the colour theme of your room and a touch of extra flair. The designer books Chanel, Louis Vuitton, Christian Louboutin and Tom Ford are the luxurious end and all come at designer prices, but you dont have to choose these. Choose hard back books that complement your colour theme, pick them up on Ebay or charity shop for next to nothing.
TOP TIP: Paint the covers of old books to co-ordinate with your colour scheme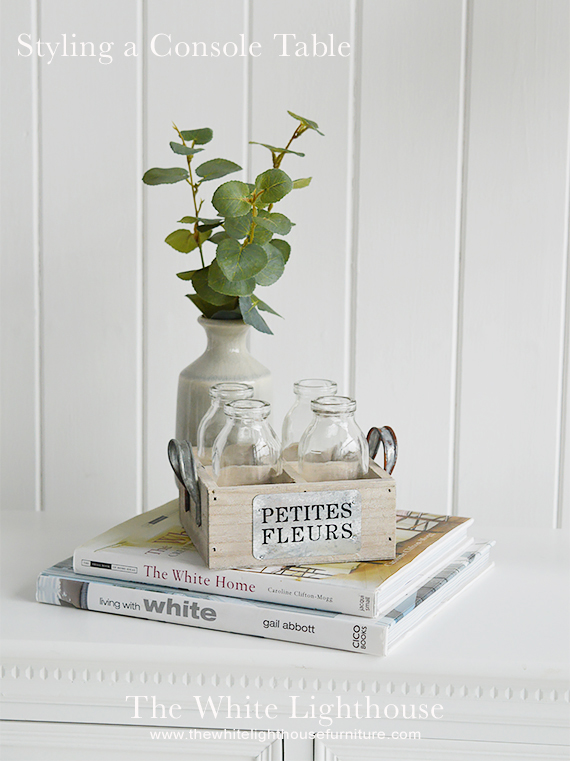 A set of coffee table books, suitfully appropriate for The White Lighthouse!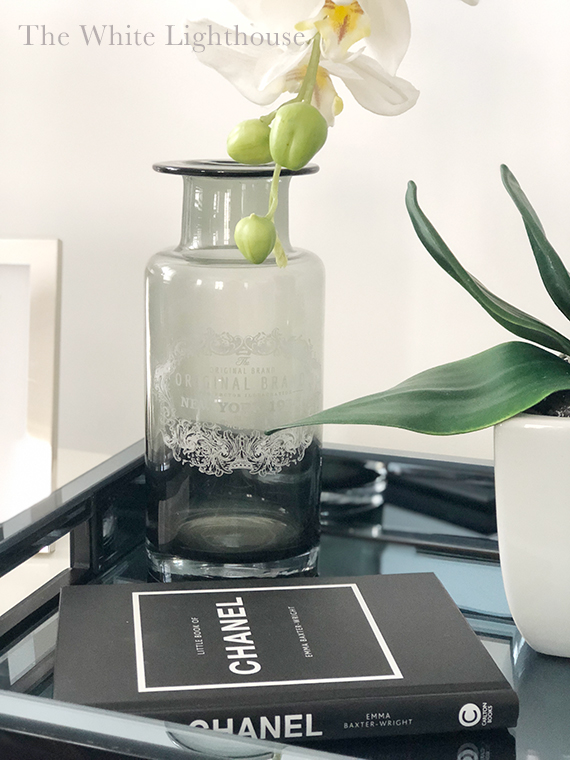 A luxurious designer coffee table book, "The little book of Chanel"
4. Use Photo Frames
Such a simple and cheap way to add homely touches to your table. As you walk by each time the speial memories come flooding back. This is a personal favourite, i just love looking at photographs of special times and people. Depending on the style of your interior, you need to choose carefully. A polished silver frame is a classic and will complement most interiors.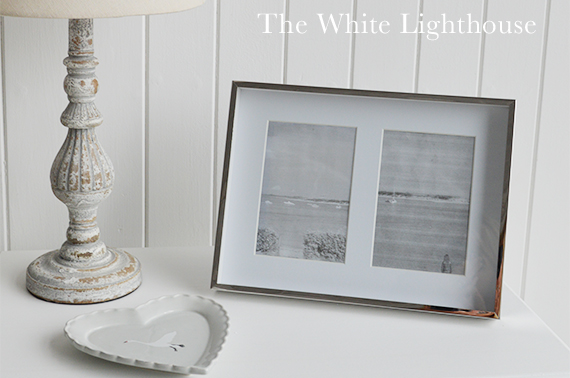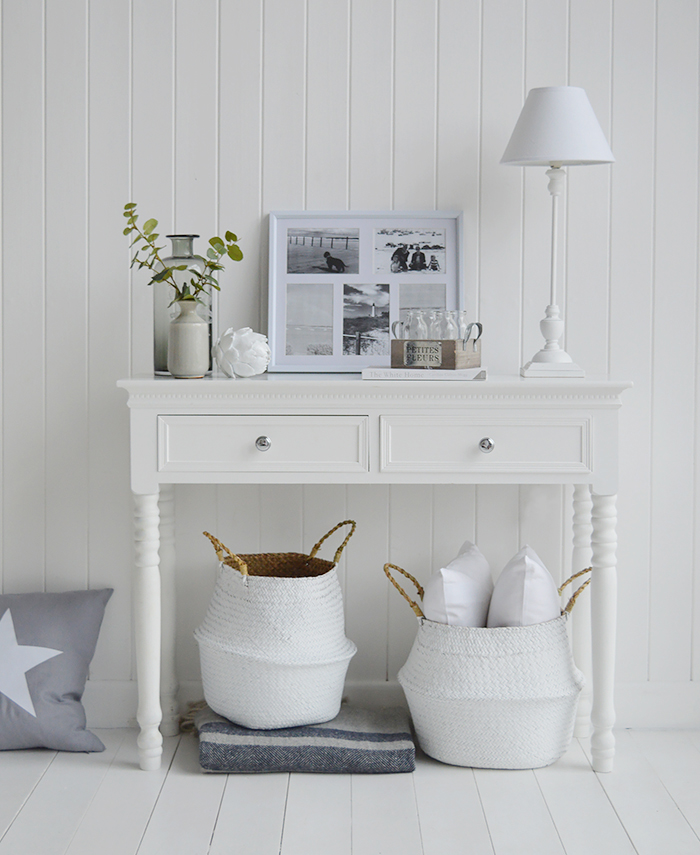 Style your console table and share special memories with our beautiful photo frames
5. Balance and Height
In the below photograph you can see how importance balance is, depending what is above your console table dictates how it should be styled. Here it is balanced as there is a shelf above, smaller itmes below and a taller lamp on the other side.
Height is needed to give the table some definition and to stand out, lamps or artificial flowers are usually a great way to add some height. Balancing the table with two lamps on either side gives a more striking look.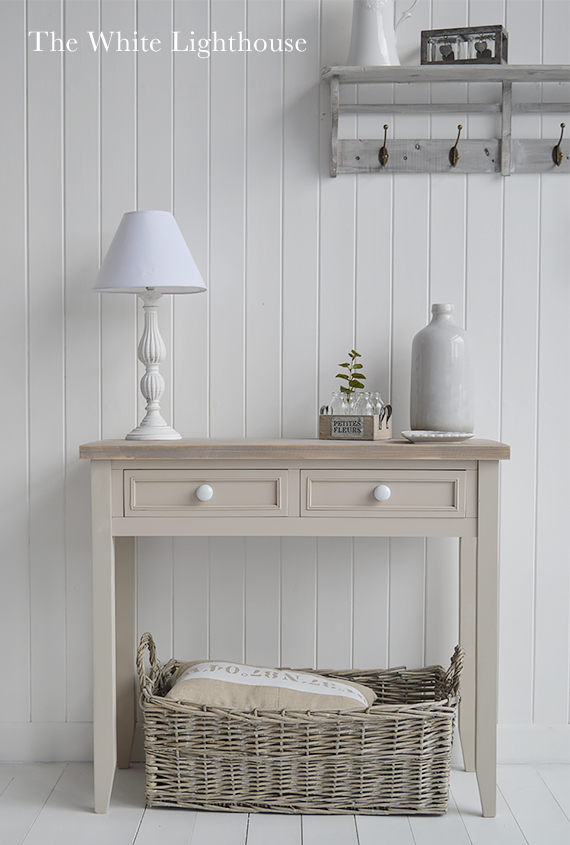 6. Flowers, Artificial or Real
Everybody loves flowers, but the cost can add up if they are fresh, artificial flowers are a far more economical way of giving the same look but greatly reducing the cost. How you display the flowers, whether it is in a bouquet or singly is personal preference. Here are just a few examples...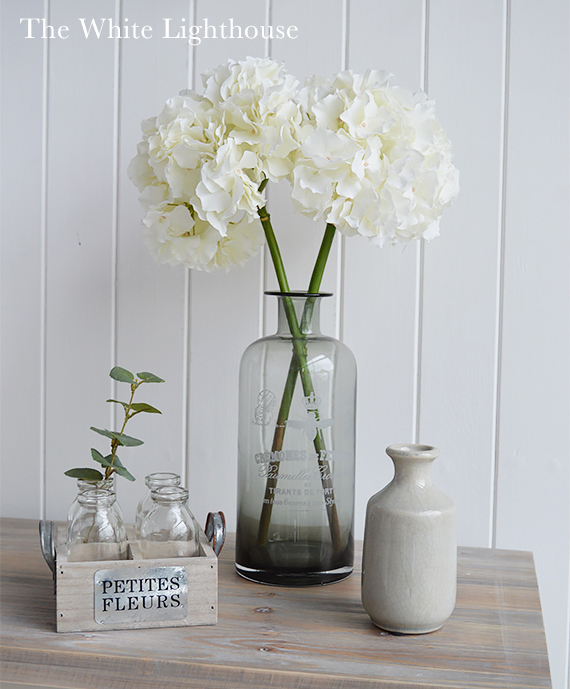 Single artifical flowers, the White Hydrangea single stem look very realistic, but offer an inexpensive but stunning interior look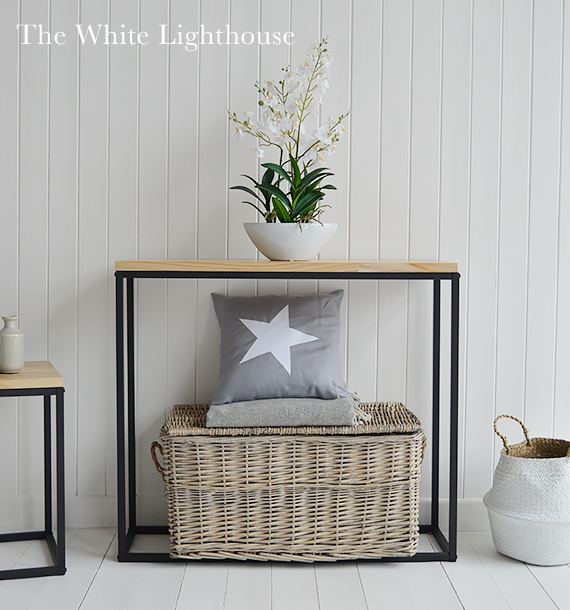 A striking style with only a single display of artificial flowers, these are slightly more expensive but give an excellent styling choice
..........................................................
Ideas on Decorating Different Styles of Hallway
Coastal and Beach Hallway Furniture
Ideas for decorating hallways in Coastal and Beach Homes ...
New England Hallway Furniture
Ideas on decorating your hall in typical New England style
Style Your Console Table
Ideas on how to style your console table