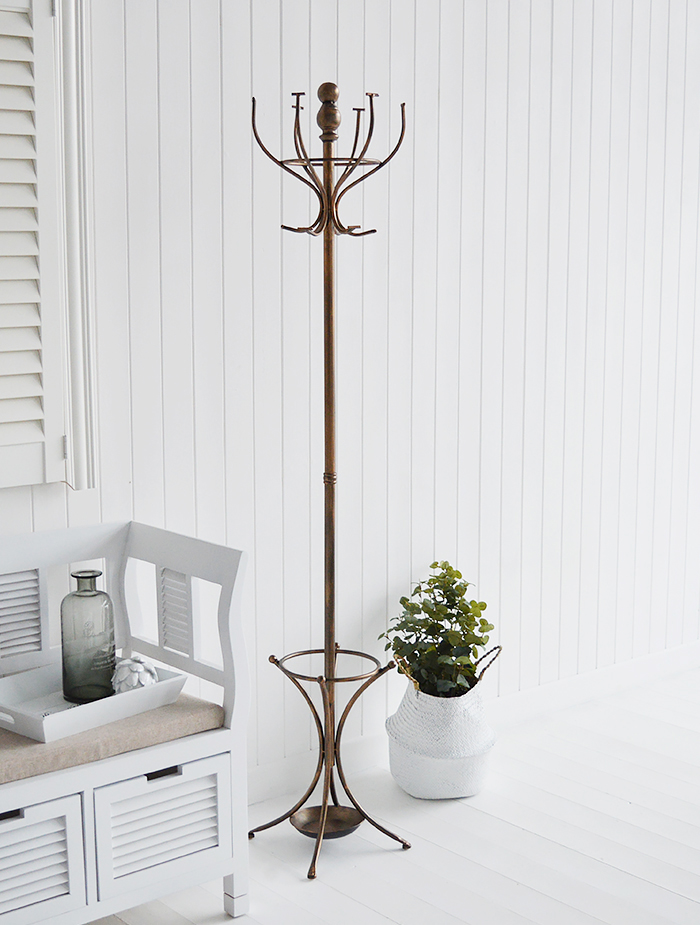 Traditional style of hat and coat stand in an aged copper finish £78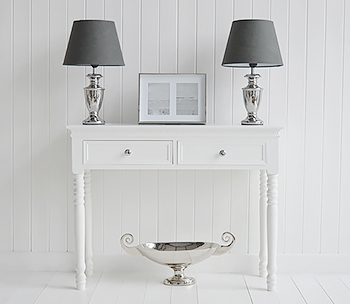 The White New England console table £169 with elegant Kensington table lamps at £32 each. Stunning White Furniture for your hall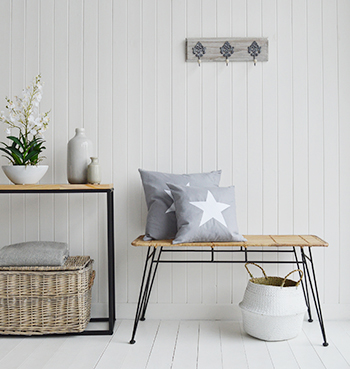 Providence Bench £78 with our Kingston white baskets, New Hamptons Cushions from £28, Brooklyn hall table £69 and grey baskets £76
Portland white small storage bench £56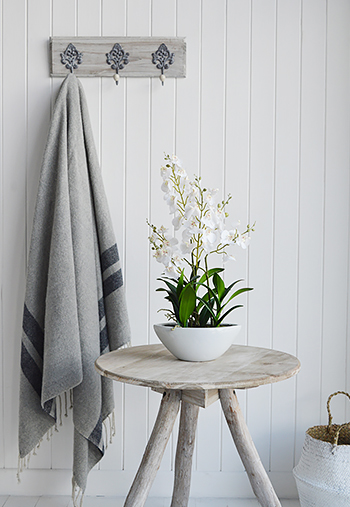 Driftwood table £79 with our gorgeous arrangement of white Orchids £46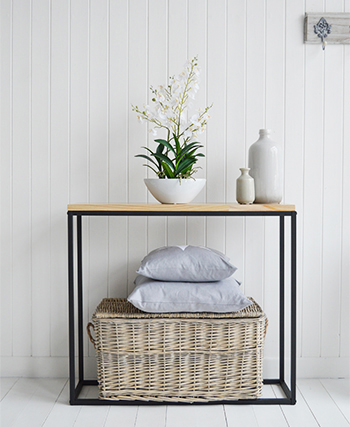 Narrow Brooklyn Console Table £69, ideal for small hallways at only 28cm deep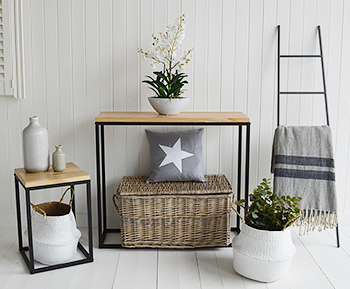 Brooklyn Furniture and home decor all available on the website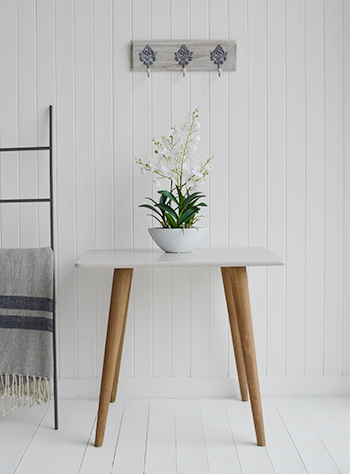 Rhode Island Grey Console Table £69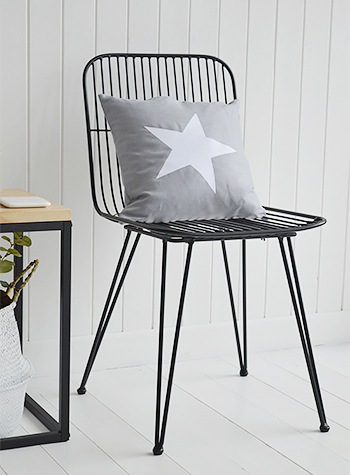 Brooklyn Chair £49 with New Hamptons Cushion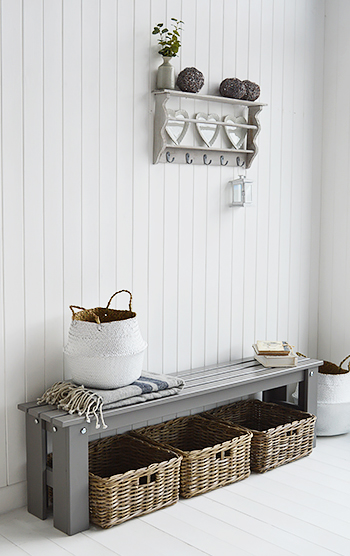 Kittery Grey Hallway Bench £65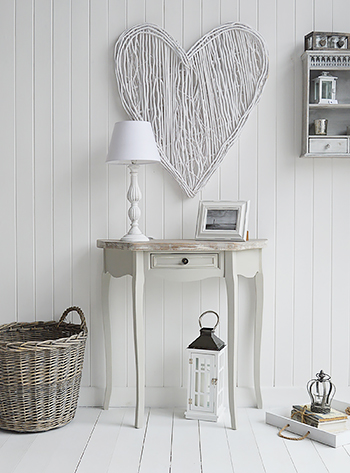 Bridgeport grey half moon console hallway table £125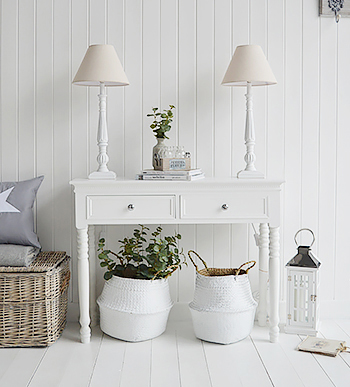 New England hallway table with large white table lamps for a beautiful centre piece to your hall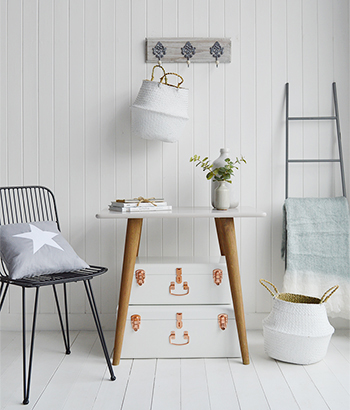 Just a few of our hallway pieces of furniture...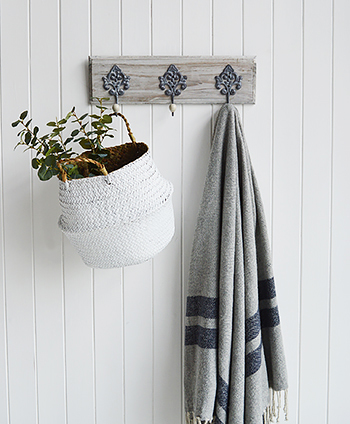 Parisian Grey Orante Coat Rack with Kingston basket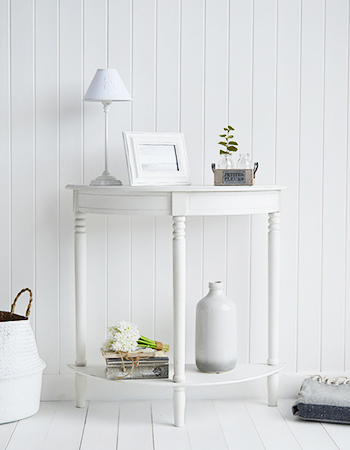 Colonial White Half Moon Hall Table £83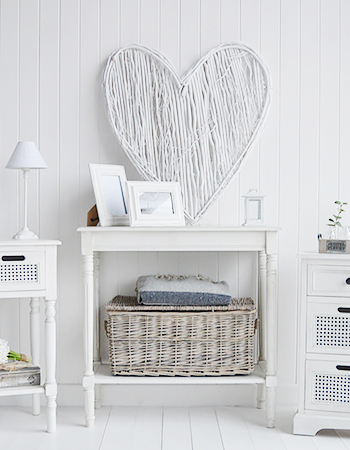 Colonial White Hall Console Table £100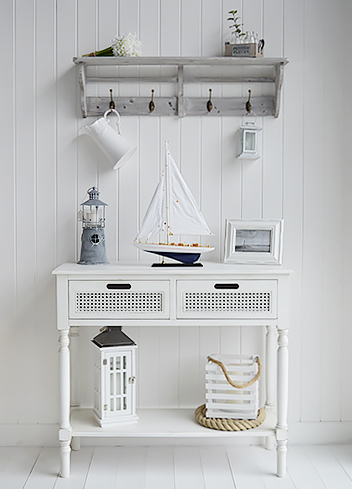 Colonial White Console Table £165
St Malo Grey Hall Rack £125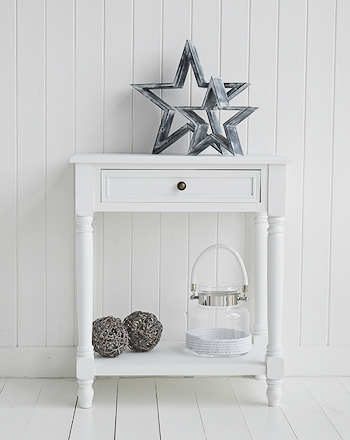 White Cove Bay small Console table or lamp table with shelf and drawer £135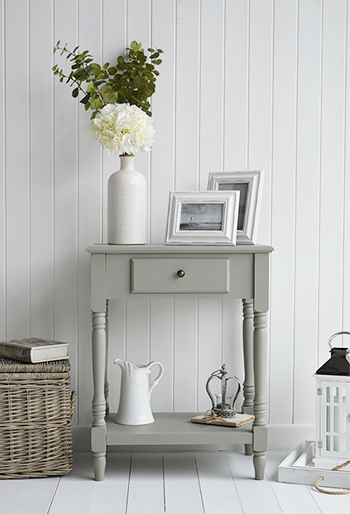 Charleston Grey lamp table or small console table £139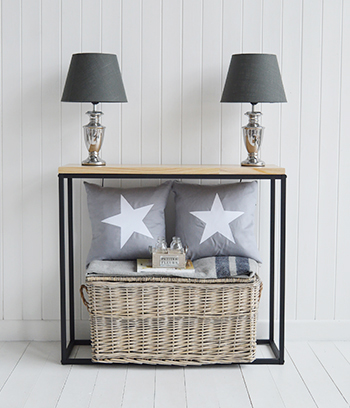 Narrow Brooklyn Console Table £69, ideal for small hallways at only 28cm deep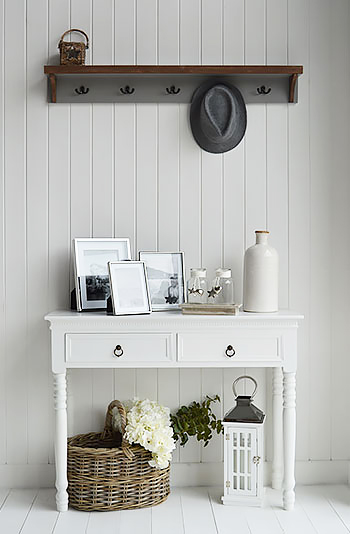 The New England white console table £169 and grey Brunswick coat rack £45 for decorating a traditional white and grey hall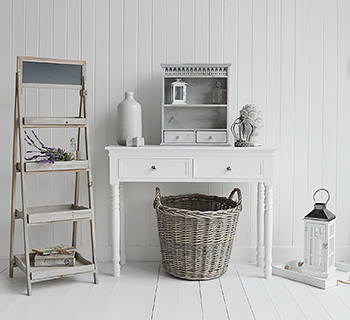 White and Grey Accessories for a bright and airy hallway. Grey Willow basket offers extra storage under the hall table for shoes.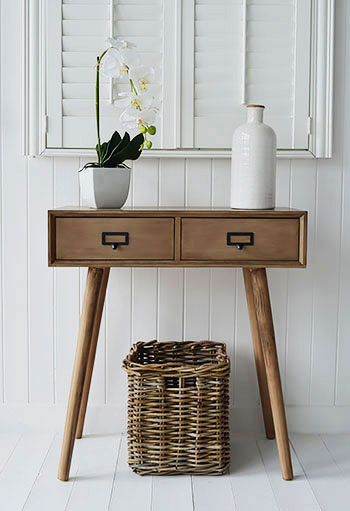 The Henley hallway console table for a Scandinavian style hall £129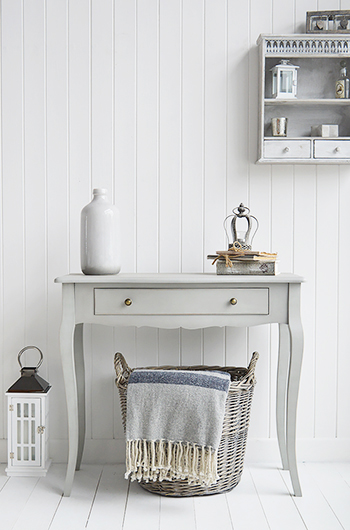 New Hampshire Grey hall table £155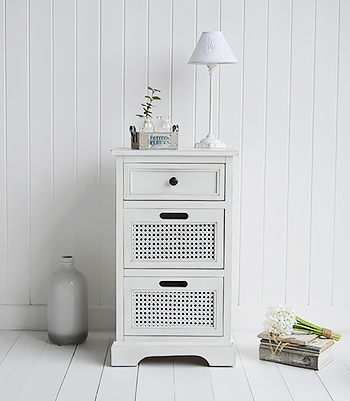 Colonial White Lamp Table £150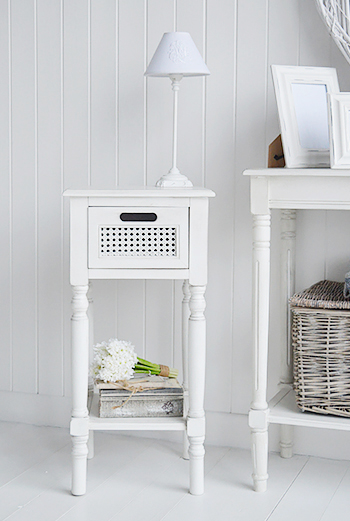 Colonial White Lamp Table £100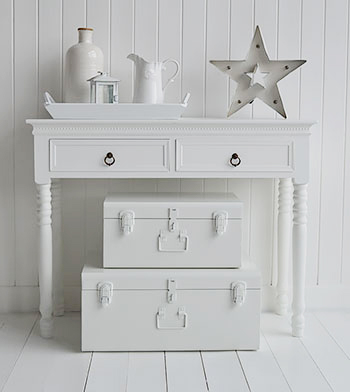 A pure white hallway for bright and airy interiors. White console table £169 with Nantucket storage trunks under for extra storage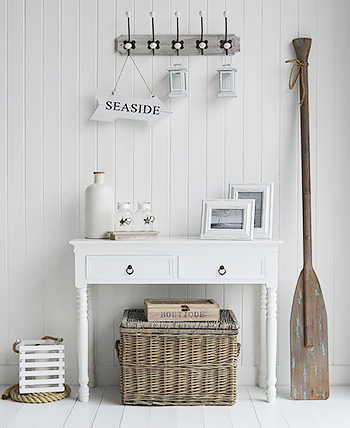 Decorate your hall in a coastal style with white furniture and driftwood grey and white accessories. Set of grey baskets £69 under the hall table give extra storage for shoes and bags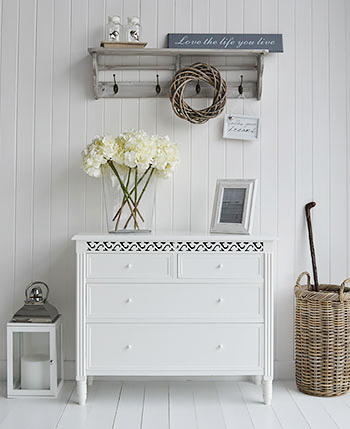 Have you thought about a chest of drawers when decorating your hall, great idea for lots of storage and place to set lamps and can be accessorised.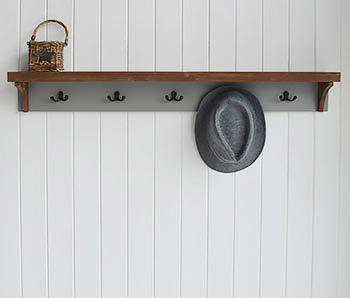 Simple coat rack when floor space is at a mimimum is a good idea for hats, coats, scarves and dog leads. The Brunswick grey coat rack is a great example at £45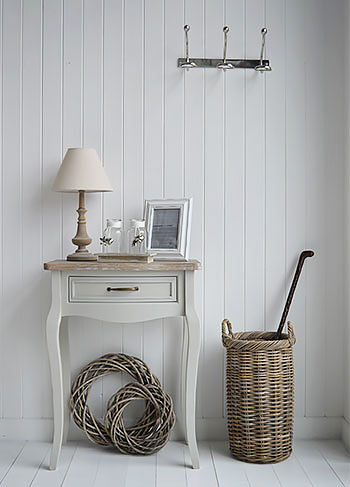 Simple cottage style hall with light grey furniture and grey washed willow. A picture of the Brunswick small console in light grey with washed wood table top £135 with unbrella basket £23 and coat rack is everything your need to decorate your hallway.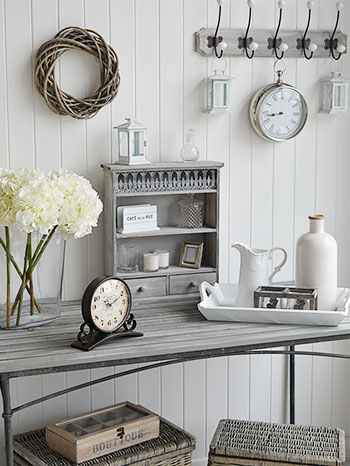 White and grey home decor accessories for cottage, beach, scandinavian and french hall interiors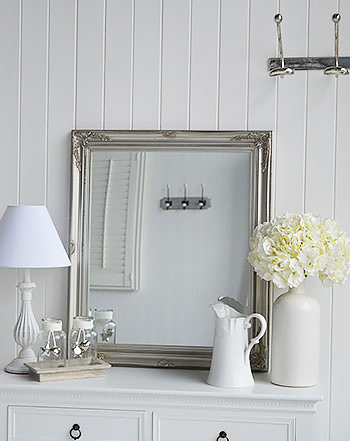 Silver Wall Mirror £49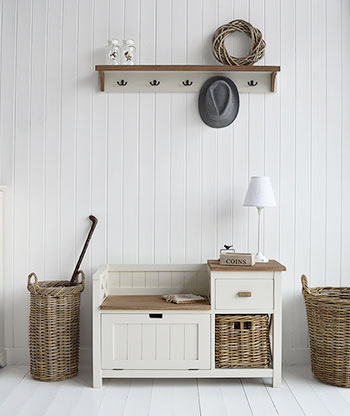 Brunswick Storage Bench £199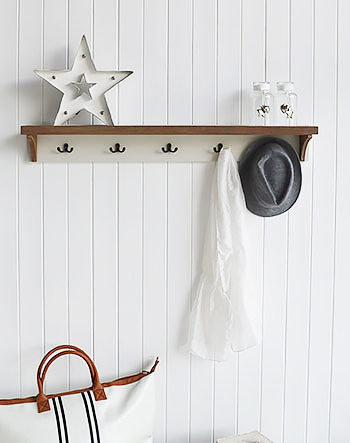 Brunswick Coat Rack £45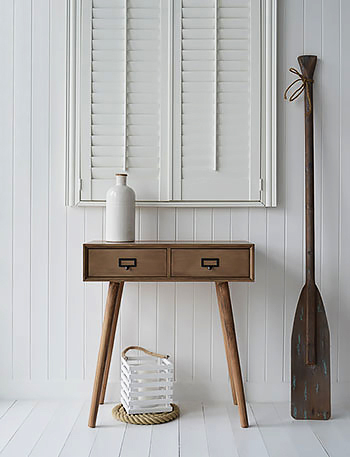 Henley Console Table £129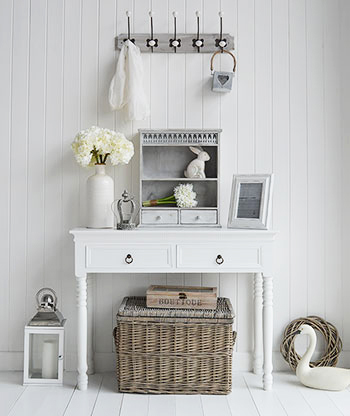 White Hall Console Table £169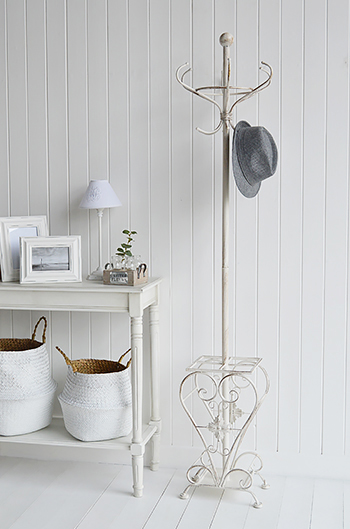 Stamford White Coat Stand £56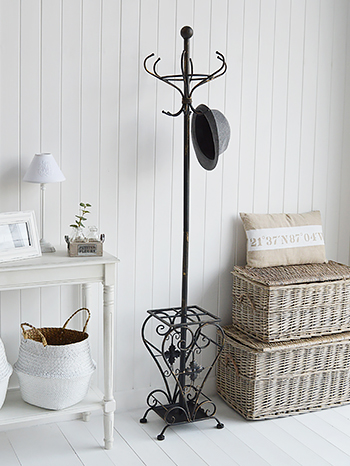 Stamford Black Coat Stand £56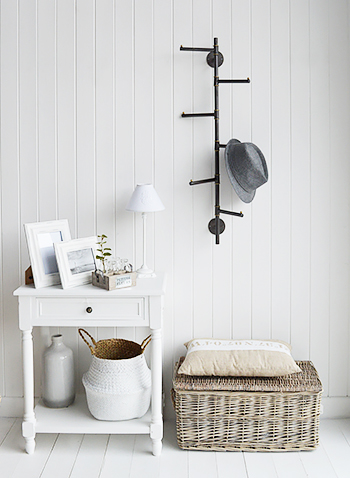 Portsmouth Vertical Coat Rack £35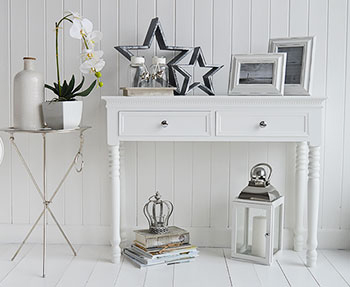 Decorate your hall in silver and white. Kensington silver tray table £49, New England Console £169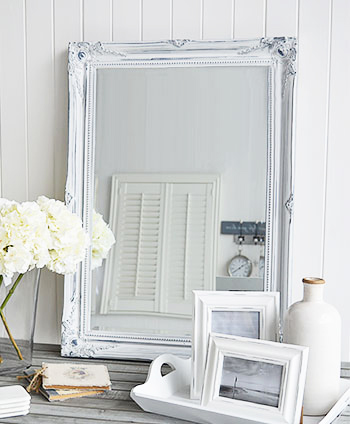 Versailles Wall Mirror £55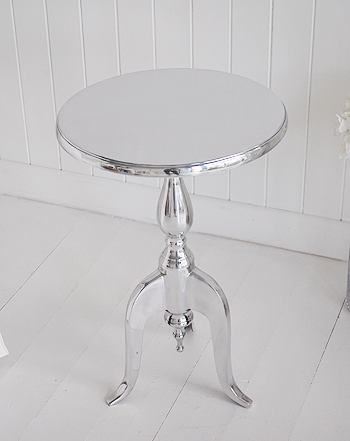 Kensington Silver and White Pedestal Table £75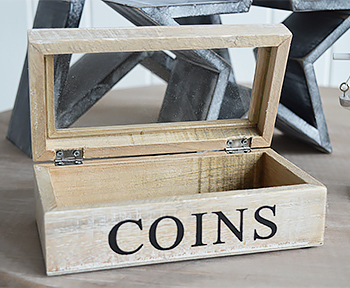 Coins Storage Box to Organise console table £7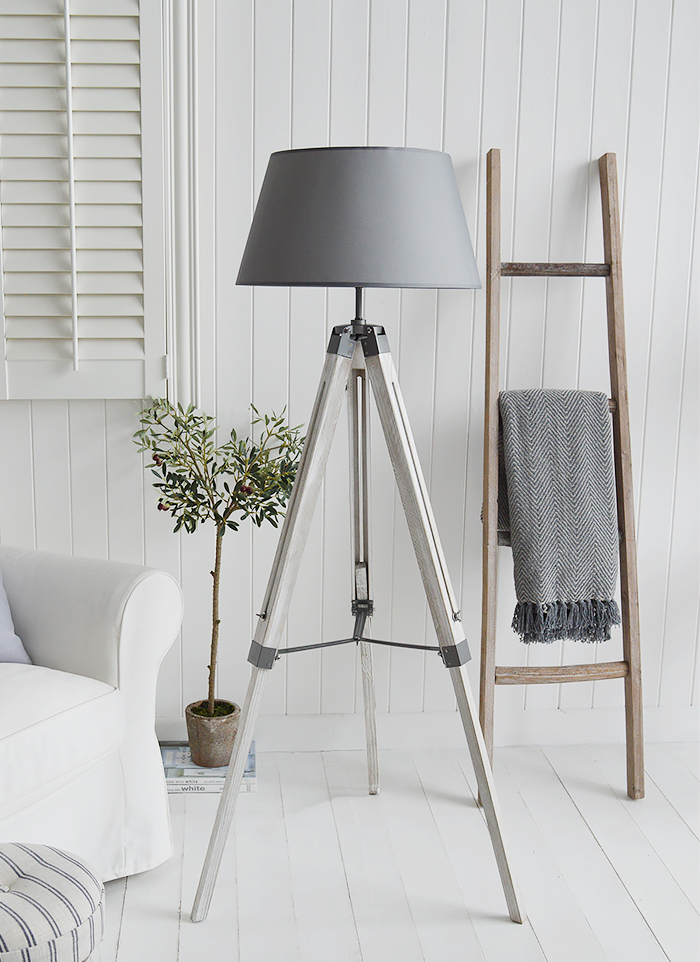 Lexington grey floor lamp £165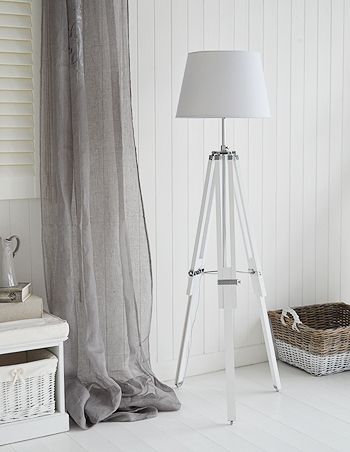 Lexington white floor lamp £165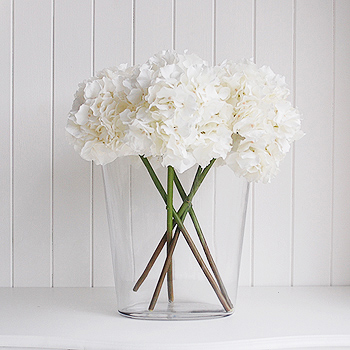 Realisitic silk white Hydrangeas, a much cheaper alternative to real flowers.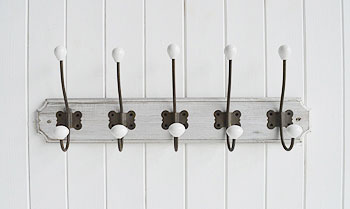 Simple coat storage. The Parisian grey coat rack £26
Kensington chrome luggage rack shelf £35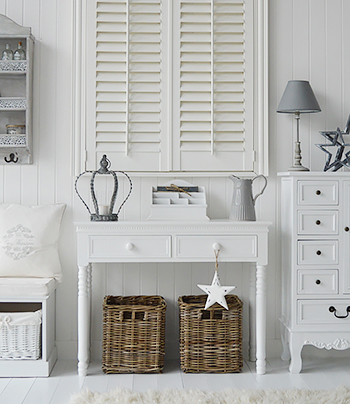 A white hallway with all white furniture. New England white console table with drawers £169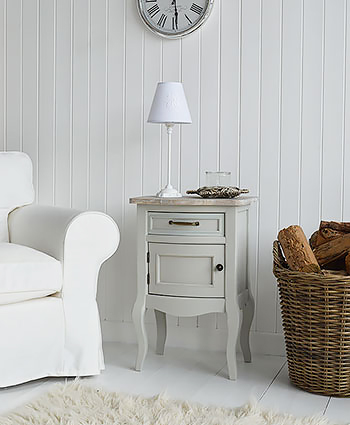 Lamp tables are great ideas for smaller hallways. The Brunswick Grey £125 with cupboard and drawer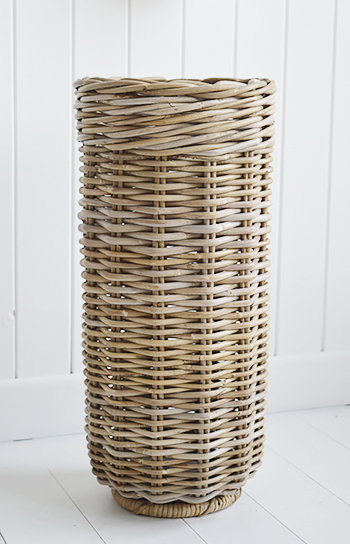 Casco Bay grey willow umbrella basket for walking sticks, umbrellas and hockey sticks £23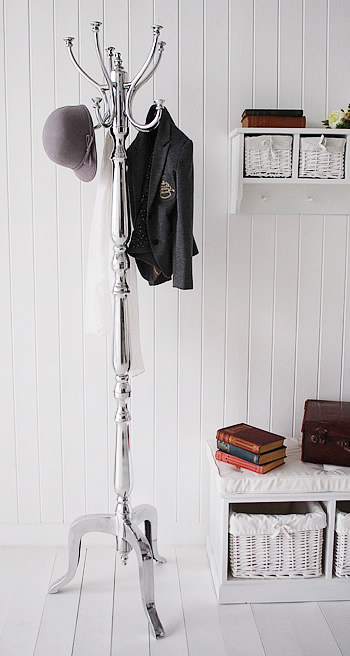 Kensington silver coat stand £190
Manhattan large vintage storage trunk for hallway
Parisian Grey coat rack £26 with hanging home accessories for wall decor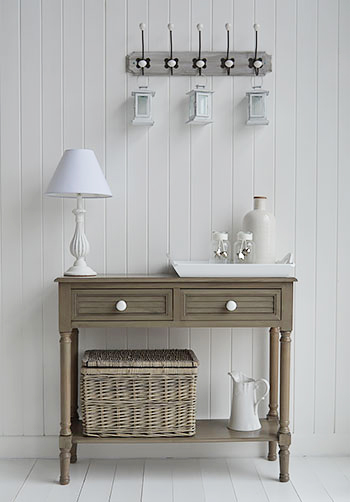 Newport french grey console table £150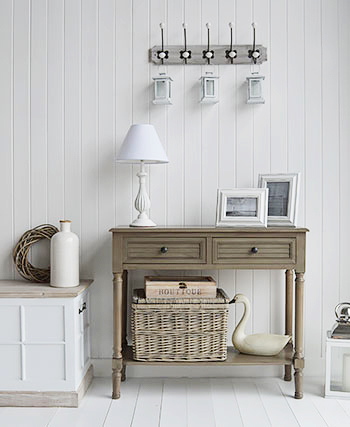 Newport french grey console table for traditional cottage interiors £150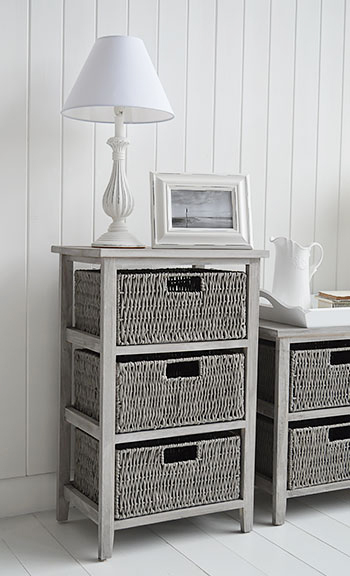 St Ives Grey 3 Drawer £89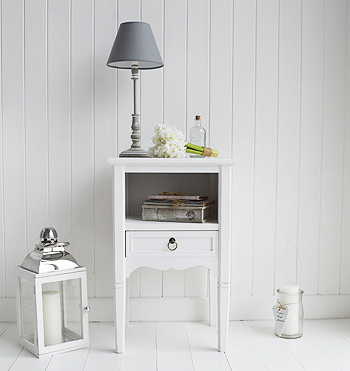 Cove Bay white lamp table £105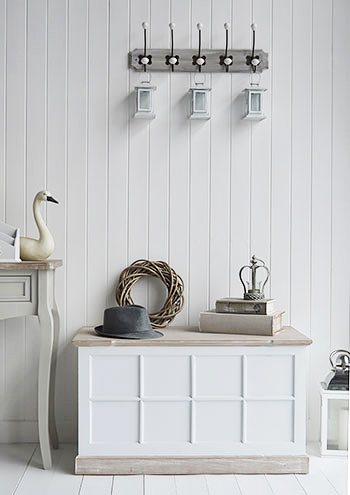 Vermont Large Storage Trunk £150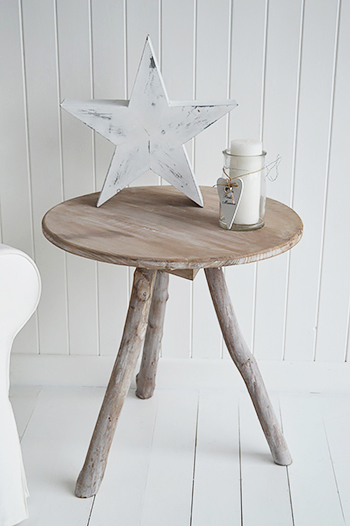 Rustic Driftwood Tripod Table £74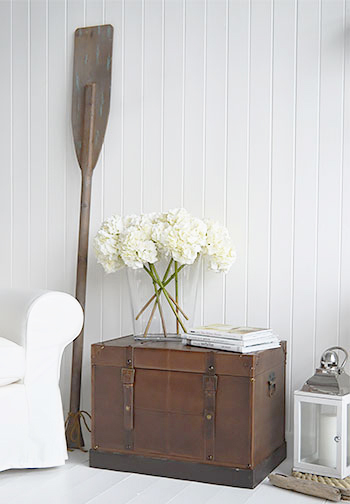 Panama Vintage Trunk for hallway shoe storage £88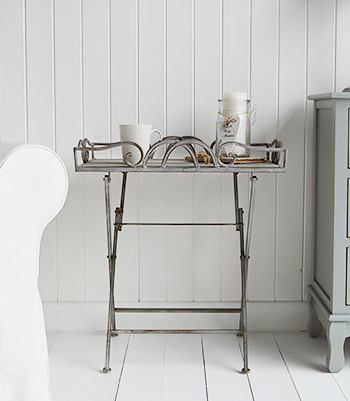 Grayswood Folding Tray Table £46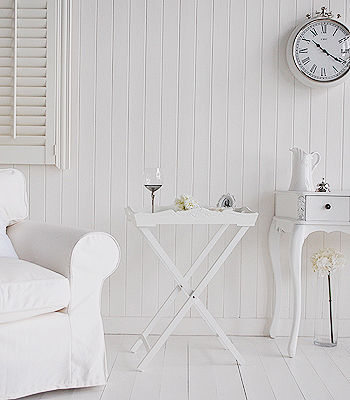 White Tray Table for small console table £36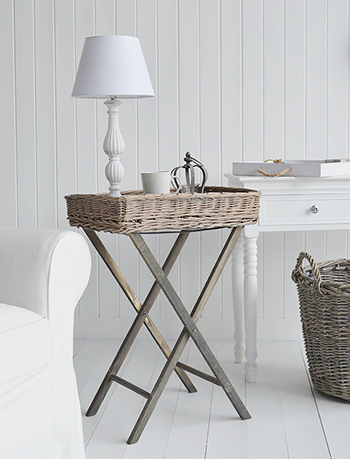 Cornwall Grey Folding Tray Table £33
_______________________
Hallway Furnitre and Storage Solutions
The hall, as the entry way to you home gives the vital first impressions as it the first place people see as they come to your front door.
The main and so important hallway decorating advice is to keep it tidy and clutter free,,, no bags, shoes or coats lying messily arround.
Storage is the key to this, and it doesn't take much effort or money, a simple coat rack and shelf will suffice if yout have a small hallway, decorate the shelf with family photos, opt for a console table or lamp table to give some interest if you have the room. The extra storage in the drawers is a place to put keys, letters, wallets and coins again keeping the clutter of everyday life at a minimal.
Baskets or storage benches are perfect to put shoes, add a basket under a console table for the children to put their shoes as they come in... this is a major step in keeping yout hall tidy!
We offer a wide range of hall furniture and storagesolutions that look stylish and importantly are affordable. Create a beautiful home easily with The White Lighthouse to help.
Hallway Decor Articles for Help and Advice
White Half Moon Console Tables
Don't take as much room but just as beautiful
Small Hallway Spaces...
Ideas on decorating a small hallway
Coats and Clutter
A few ideas on how to remove clutter from the hall
London Hallway Calling
How to furnish a hallway in London when space is at a premium...
Hall Table ......
Add elegance to your hall
Lamp Tables....
A petit console table
Do I Need a Console Table?
The answer is definitely yes, find out why..................
Hallway Furniture
Keep Britian's hallways tidy.......
Create a Great First Impression
Hallway furniture is so important..............
Advice on White Hall Tables
Some advise on choosing a hall table.......

Follow The White Lighthouse on Instagram to see more