Ideas on How to Decorate your Hall with New England Furniture
Across the ocean, the 6 states of Northeastern US, Vermont, New Hampshire, Maine, Rhode Island, Massacchusetts and Connecticut make up the New England region. Renowned for its white sandy beaches, large lakes, harbour towns and fall foilage...
and we love the style of furniture associated with this historical region, especially for the hallway - the entranceway to your home
Here we offer some advice on how to decorate your hallway with New England Furniture...
New England is as much of a style for those that are fortunate enough to live near the coast as those that live more inland.Adding tongue and groove panelling will instantly bring your hallway to the beaches of Cape Cod or the farmhouses of New Hampshire.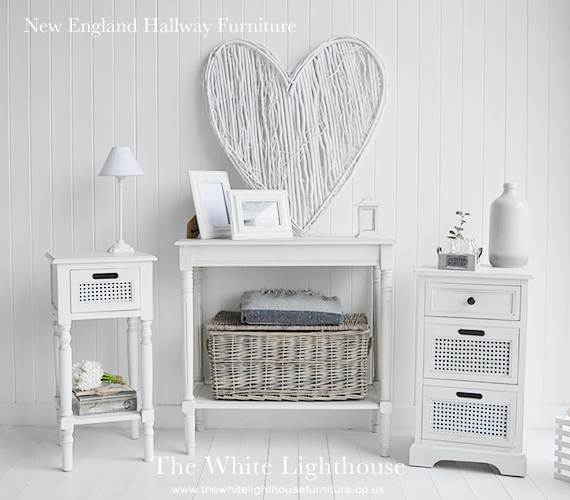 Being such a large area, to cover country, beaches and cities, the New England Style is so diverse from Bohemian Boston look all the way through to the luxurious style of the Hampton Mansions.
The hallway, the maine room of your home to welcom guests is a massively important area in your home. It is essential for your own insanity that isi tidy and clutter free with plenty of storage to hide away the everyday mess. There are so many options in decorating your hall with New England furniture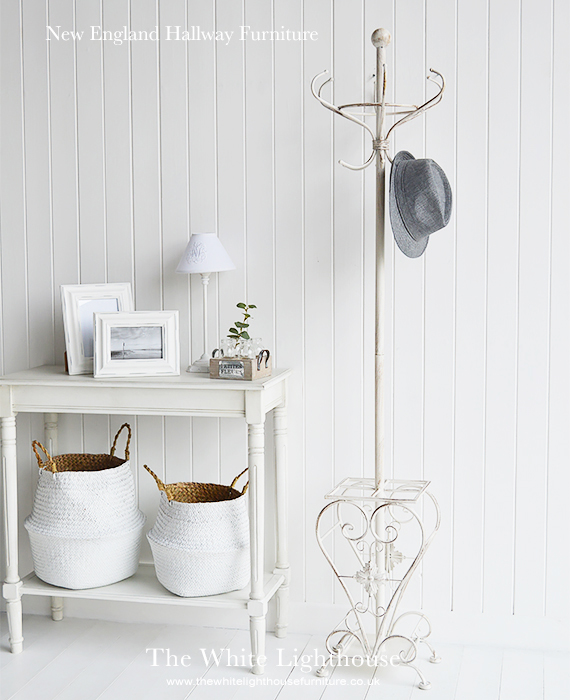 Bohemian Boston
Modern with a touch of an industrial look is perfect for Bohemian Boston. A metal trunk used as a storage seat to keep bags and shoes, a coat rack above for coast and scarves is all you need. Keep the furnishings minimal for a clean, uncluttered but comfortable finish.
Luxurious Hampton Mansion
Hamptons... instantly you think of white sandy beaches, large luxurious mansions decorated in a more formal way but in the colours of the beach - blue and white.
A white console table with symmetrical lamps on either end of the table make up this typical look. Add a comfy chair and a blue and white yacht to add to the mix of the coast.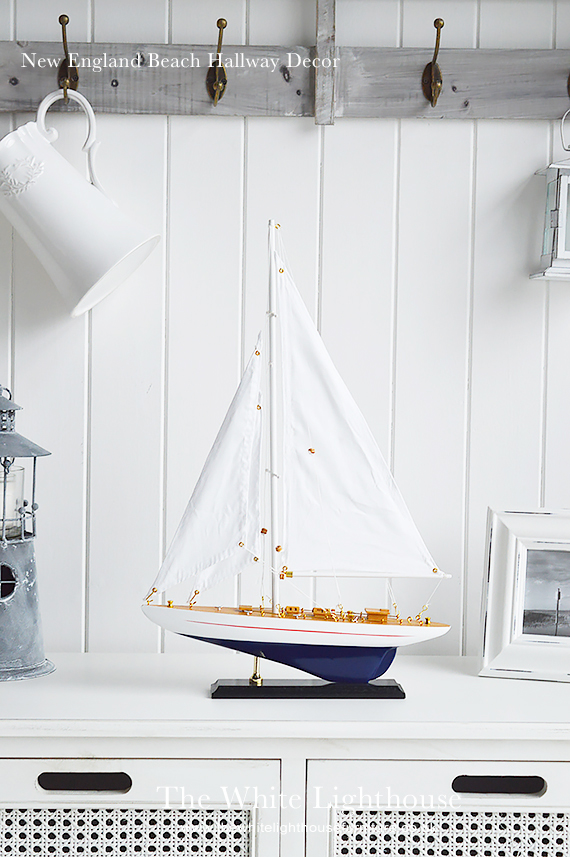 Cape Cod Coastal
Memories of summer vacations, long days spent on the beach... Driftwood, shells and white sandy beaches make up this look in your hallway. A lamp on a table in driftwood effect would fit perfectly, decorated with grey table lamps and a few shells and driftwood you have collected scattered randomly. White walls would look great against the driftwood grey.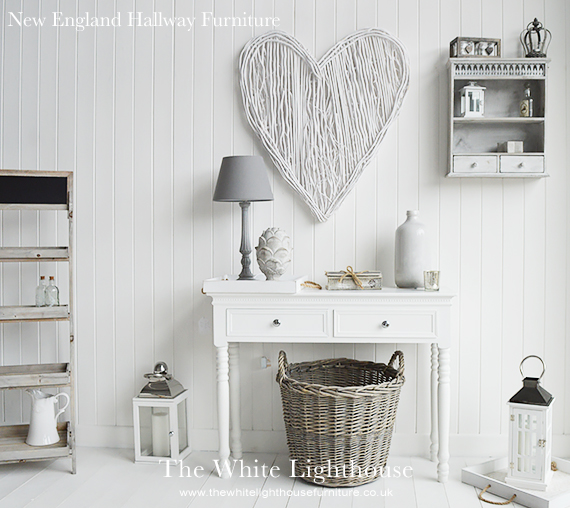 Keep it simple for this regged look, a lone bench wih room under for boots and storage baskets for shoes. A coat rack above with a shelf to allow you to quickly grab your coat during the cold Maine winters. Textured neutral furniture in the way of baskets is a great rugged look.
New Hampshire Farmhouse
Fabulous foilage and Roaring fires. Cosy traditional furniture in the hallmixed with painted modern pieces with old style wood accessories and a bucks head for authenticity. Gyreys and whites are the perfect colours for this livied in hallway. Typical pieces of furniture include coast stands, rustic benches and racks.
White Beach
Set the tome in your hallway of your white beach home. An all white room with subtle nautical decor. A bench for shoes and flip flops, natural baskets for storage.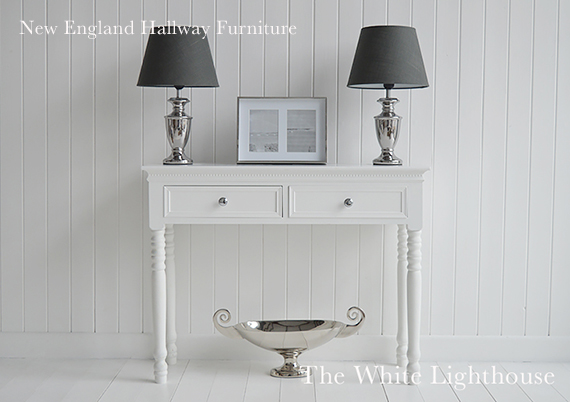 Above shows the elegance of New England furniture in the Hamptons mansions
.......................................
At The White Lighthouse we specialise in New England furniture specifically for the hallway where we offer free UK delivery for orders over £50
.......................................
Ideas on Decorating Different Styles of Hallway
Coastal and Beach Hallway Furniture
Ideas for decorating hallways in Coastal and Beach Homes ...
New England Hallway Furniture
Ideas on decorating your hall in typical New England style
Style Your Console Table
Ideas on how to style your console table