____________________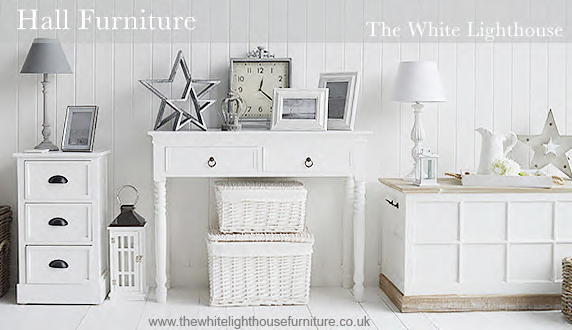 ____________________
White Hallway Furniture
White furniture in a hall is perfect for smaller hallways, white creates an illusion of space reflecting the light throughout. We have featured here a white storage bench and small chest of white drawers to hide away daily clutter, a white console table for lamps and to display photos and home decor with a set of baskets under for shoes.
____________________
Furniture in Hallways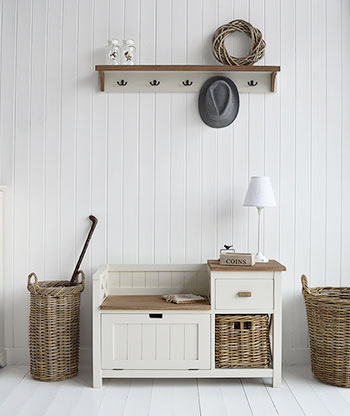 A charming piece of furniture with great deal of storage including a tall basket, a drawer and an underneath area fabulous for shoes. The seat provides a relaxing area to sit upon entering your home to read mail and have a chat. The umbrella basket also makes for a great palce to keep hockey and walking sticks and perfectly complements the Brunswick range. In general with cottages being small this hallway piece in one is just pefect for a cottage.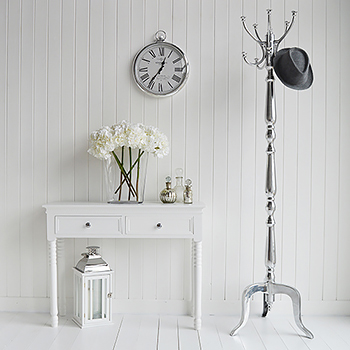 The New England White Conosle table with silver handles to complement the stunning silver Bentwood Coat Stand. A complete hallway solution in one for grand homes.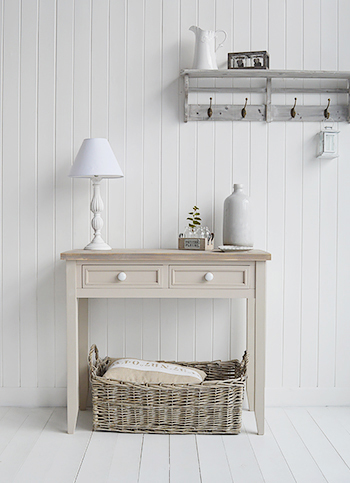 The Kittery grey console table with drawers. The straight lines and neutral colours offer this shaker style table a superb option for all styles of interiors.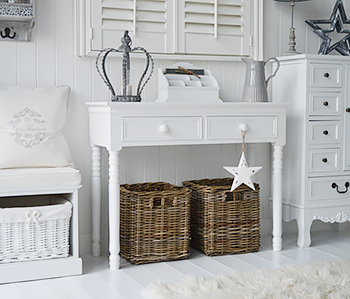 An impressively splendid entrance way to your home with this all white New England console table. Keep your interior all white or add contrasting baskets and home decor in any colour to match your home.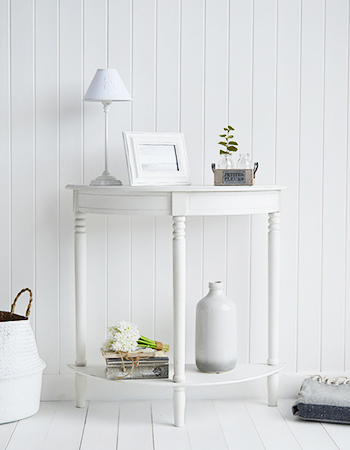 Half moon console tables are a great option with smaller halls. They provide a table top for a lamp and to make your mastercraft of home decor accressories available for all to see while not imposing on your precious space too much.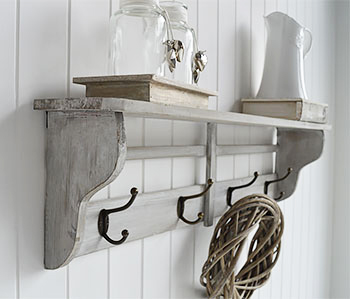 Coat hooks! They are not only a great look but they are essential in bringing serenity to your hallyway. Many colours, styles and sizes of coat racks and hooks are available. They are not floor standing, but wall mounted, again making them necessary in a small hall to remove coats, scarves and bags from the ground.
Wow!...so much storage in this piece of hallway furniture. The Manhattan trunk is a fabulous place to sit as well as hide the mess of shoes and bags.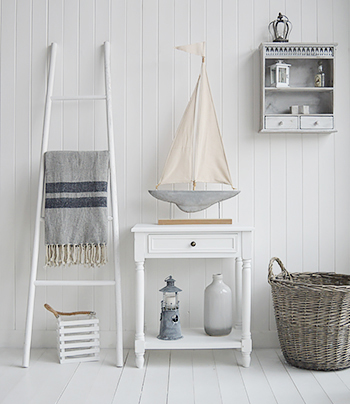 How lovely is this hall for a coastal home, the white furniture and pale colours of the subtle nautical home accessories with grey willow baskets offer a gorgeous centre piece in the hallway.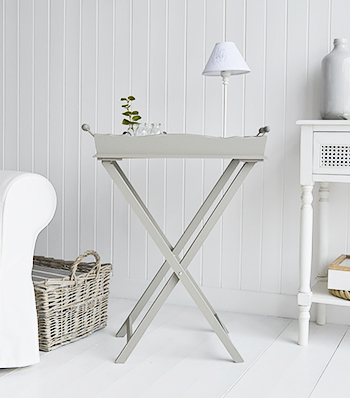 Tray tables offer a solution for a table in small entrance ways, a place for a lamp and to throw your mail and keys as you enter your home.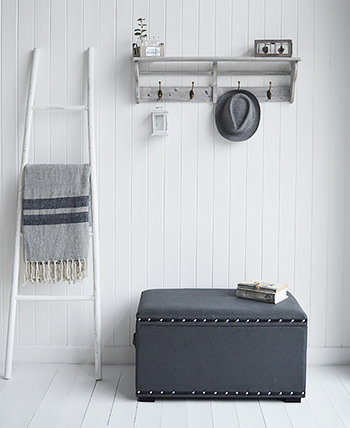 An absolutely stunning piece of furniture, the Berkeley grey storage trunk offers masses of space, the simple, but elegant design ensures it blends with all interiors.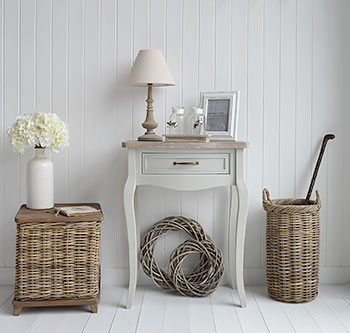 The light grey of the Bridgeport blend this seemlessly into all hall designs. The grey washed driftwood top of this range of furniture match it excellently into subtly coastal designed homes by the sea as well as those in the country and suburbs.
Hallway Decorating and Furnishing Articles... Help and Advice
White Half Moon Console Tables
Don't take as much room but just as beautiful
Small Hallway Spaces...
Ideas on decorating a small hallway
Coats and Clutter
A few ideas on how to remove clutter from the hall
London Hallway Calling
How to furnish a hallway in London when space is at a premium...
Hall Table ......
Add elegance to your hall
Lamp Tables....
A petit console table
Do I Need a Console Table?
The answer is definitely yes, find out why..................
Hallway Furniture
Keep Britian's hallways tidy.......
Create a Great First Impression
Hallway furniture is so important..............
Advice on White Hall Tables
Some advise on choosing a hall table.......