Scandinavian Look for your home...
The Scandinavian life is famous for its sense of well-being. The UN's World Happiness Report, in fact, now ranks Denmark, Finland, Iceland, Norway, and Sweden at the top of their happiness list. This must be why we at The White Lighthouse find the scandi style furniture so appealing. Simplicity and a natural finsh creates an inner bliss. Bringing us back to nature.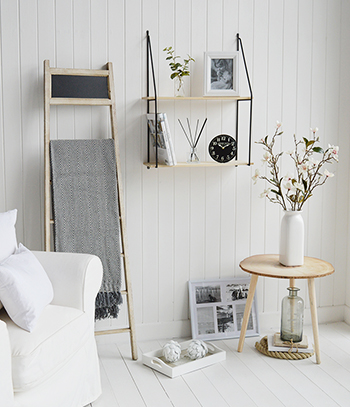 The Hartford Nordic table £28 with Boston Bohemian Wall Shelf £22, Dorchester blanket ladder with a touch of magnolia
Today the Scandinavian also known as scandi look is very popular and part of what makes up this look is clean straight lines and simple unfussy white furniture. To instantly get this look, simply fill your room with neutral colours, bleached white furniture and pale walls and declutter. To get this look in your boudoir, one great way to do this is to paint your walls brilliant white, put down a natural sisal rug, add crisp white bedlinen to your bed and add a Scandinavian style white dressing table to the room. A white dressing table is a great way to help you get the Scandinavian look which is all the rage at the moment. By keeping the room simple and uncluttered, a simple white dressing table is not only useful but lends itself to creating the look you are after.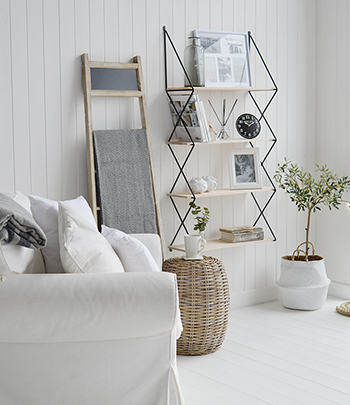 Get the look... Bohemian Large Wall Shelf or book case £55 with Casco Bay Willow stool / table £58, artificial olive tree £55 and Dorchester blanket ladder £38
Besides adding a white dressing table, what other ways can you get the Scandinavian or scandi look
If you are after the Scandinavian or scandi look for your home and are not sure how to go about achieving this, first remove all clutter from your home and start again. Remove all unnecessary furniture and belongings and only add back in that which is useful or extremely beautiful. For your bedroom, by keeping your bed simple and white already begins to create the look. Next so the point does not get lost, by adding a white dressing table and two simple bedside tables should really help and be all you really need. Make sure you have plain wood floorboards and for that extra bit of warmth, add a natural rug such as a sisal. Keep all colour plain and neutral as the Scandinavian look is all about restful and peaceful colours.
Where can you go to find a white dressing table?
If you have decided that you want the Scandinavian look, then go online today to www.thewhitelighthousefurniture.co.uk to find a great range of furniture including a white dressing table for your bedroom. Aside from finding the white dressing table to help you complete your look, you will find a whole range of reasonably priced furniture for your home.
Scandi Style Furniture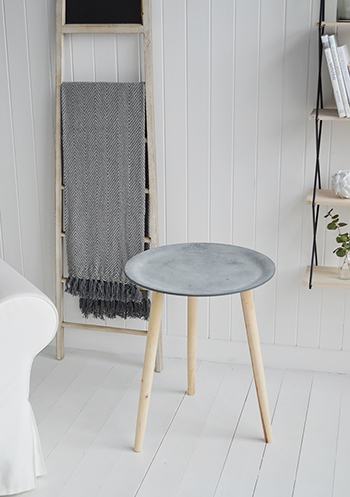 Boston Bohemian tripod slate effect lamp side table £25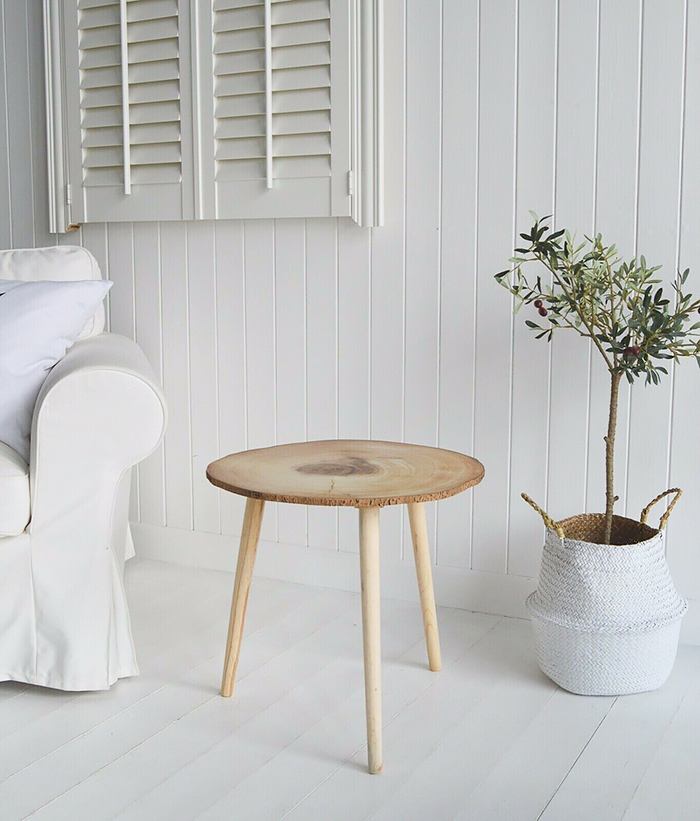 Hartford lamp or side table for Scandinavian style living rooms. £28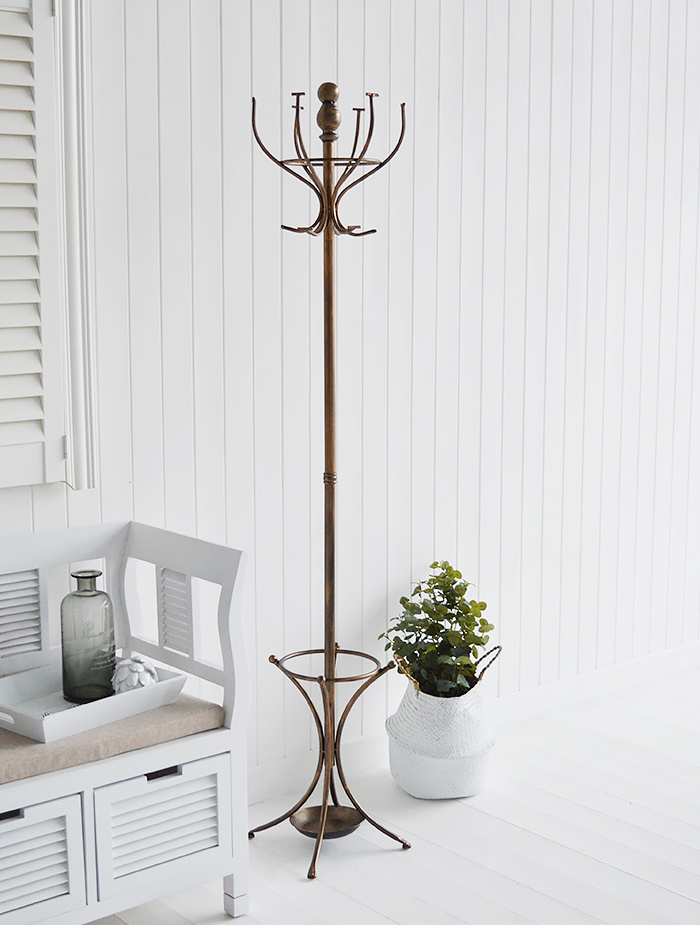 Traditional style of hat and coat stand in an aged copper finish £78
How to Decorate Your Bedroom in Scandinavian Scandi Style
Simple white bedroom furniture magnifies natural light, an essential part of Scandi style. Below is included a range of furniture to suti this specific style of interiors that is available to buy from The White Lighthouse. Combining contemporary accessories will create the perfect scandi chic bedroom for a restful and tranquil feel. With the classic look being clutter free and clean, storage is essential. An idea to decorate is to add geometric bedding, rugs and cushions, a gallery like wall with racks, shelved and pictures, but be sure to keep the same colours or themes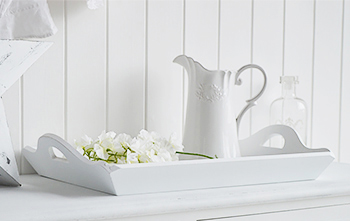 Scandi style home accessories...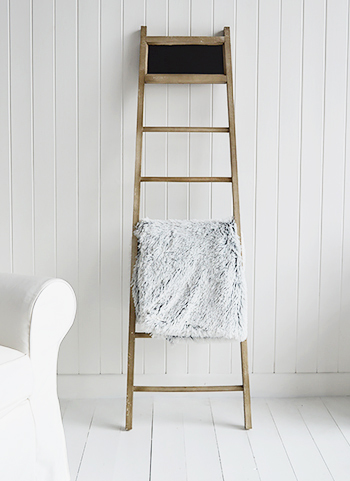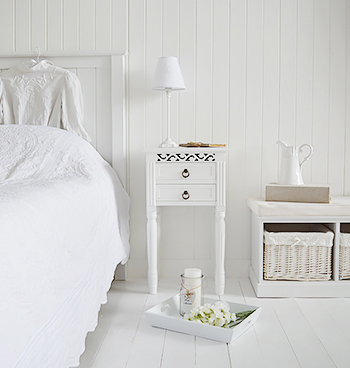 White Bedside Table with Drawers £105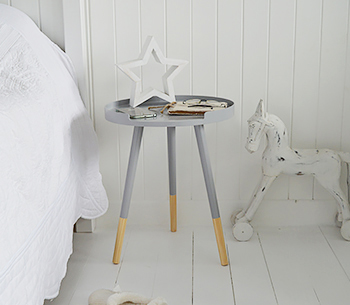 Grey Scandinavian Style Table £45

The Scandi dressing table also compliments our New England tones and can be incorporated with our white and grey tones of furniture to create a very calming and stylish yet simple interior space.
You have got to love a bit of Scandi chic with these Scandinavian dressing tables...
If you are looking for a dressing table for your bedroom, consider a Scandinavian dressing table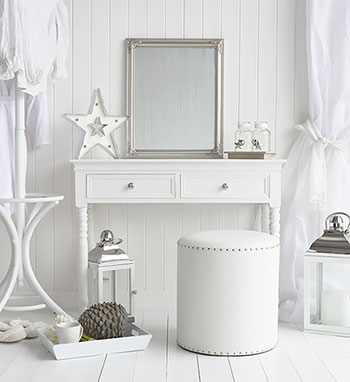 Buy Now - Click on Image above- Scandinavian White Dressing Table £169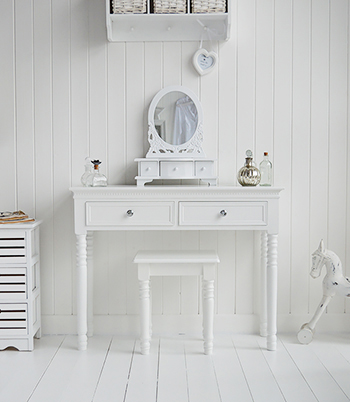 Buy Now - Click on Image above- Scandinavian White Dressing Table £169
.......................................................................................
See other articles
Bedside Tables are a necessity
Why a bedside table...
Scandinavian Look..
Create the popular scandinavian look in your bedroom.
How to Create a New England Style Bedroom
Some advice on how to create your very own beach style bedroom.
For your bedroom or dressing room
consider adding a dressing table to your room...
Choosing narrow bedside tables....
Having difficulty finding a narrow bedside table
White Children's Bedroom Furniture
Why white furniture is perfect for the children's bedroom.......
Your Little Princess...
Decorating a bedroom for little princesses
The Luxury of a Dressing Table
Sit down and relax at a dressing table...............
Ideas for bedside tables
Help on choosing a bedside table...
They Grow up so fast
Furniture to suit little princesses that grow up so quickly.............
How to Style Your Dressing Table
Some ideas and tips on how to dress and style your dressing table.....