For your bedroom or dressing room, consider adding a dressing table to your room
For years the dressing table was a forgotten piece of furniture. The dressing table was once popular over fifty years ago but then over time became long forgotten. However, nowadays the dressing table has been enjoying a revival and is now one of the most coveted items of furniture for most women. Whether it is nostalgia for a different era or just a sentimental item bringing back memories of watching our mothers and grandmothers getting dressed for an evening, a dressing table represents our past more than any other piece of furniture in our homes.
If you can remember a time when your mother was brushing her hair at night whilst sitting at her dressing table, then most likely it is a memory you would like to create for your daughter. What is more, a dressing table looks elegant in a bedroom.
What are the other benefits of a dressing table?
There are many other benefits of a dressing table apart from bringing back memories from a time since past. A dressing table is incredibly useful for both usage and storage. What better way to store all your hair accessories, perfumes and creams and lotions? As well as having somewhere to display these items, you can also use the dressing table when getting ready to go out. It is a lovely place to sit and brush your hair or to relax while you do your makeup. No more standing, hunched over a sink in the bathroom while doing your makeup. You can just sit leisurely and take your time whilst getting ready.
For a great dressing table, you can go online today
You can find a dressing table to suit your home decor in a range of style and prices by going online to www.thewhitelighthousefurniture.co.uk. There you will find the dressing table of your dreams at a reasonable price. Don't wait a minute longer to find the dressing table to complete your bedroom.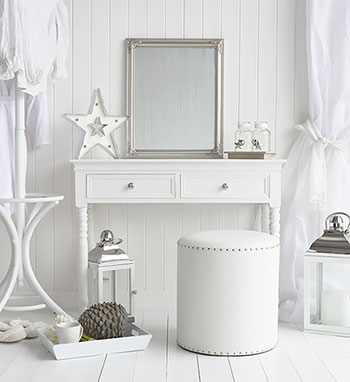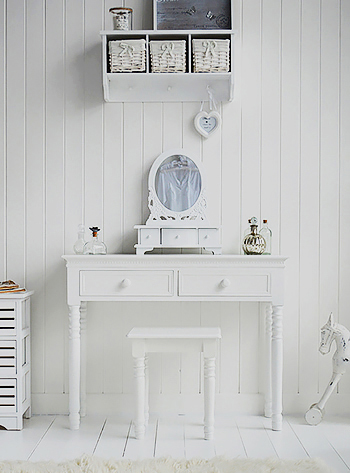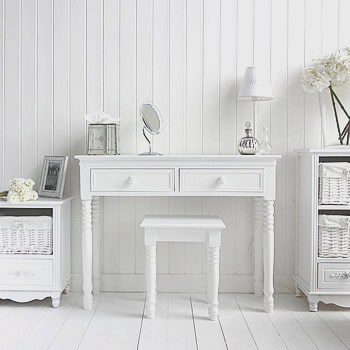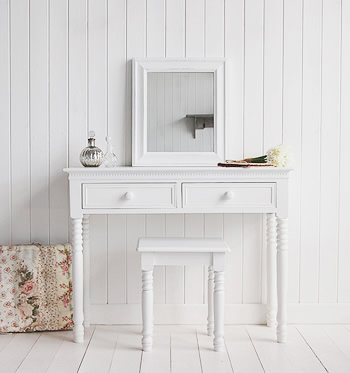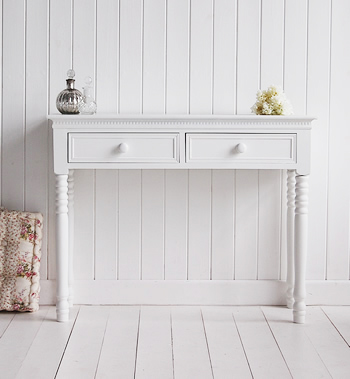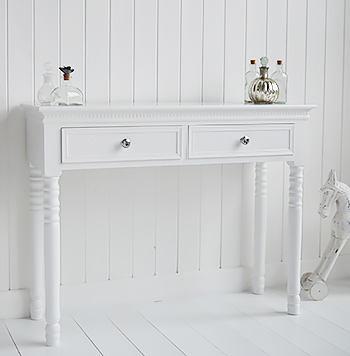 .......................................................................................
See other articles
Bedside Tables are a necessity
Why a bedside table...
Scandinavian Look..
Create the popular scandinavian look in your bedroom.
How to Create a New England Style Bedroom
Some advice on how to create your very own beach style bedroom.
For your bedroom or dressing room
consider adding a dressing table to your room...
Choosing narrow bedside tables....
Having difficulty finding a narrow bedside table
White Children's Bedroom Furniture
Why white furniture is perfect for the children's bedroom.......
Your Little Princess...
Decorating a bedroom for little princesses
The Luxury of a Dressing Table
Sit down and relax at a dressing table...............
Ideas for bedside tables
Help on choosing a bedside table...
They Grow up so fast
Furniture to suit little princesses that grow up so quickly.............
How to Style Your Dressing Table
Some ideas and tips on how to dress and style your dressing table.....