Bedside tables are a necsssity...
If you have get nothing else in your bedroom you should at least have some bedside tables!
You obviously need a bed but apart from that you only need a bedside table to complete your bedroom..
... whether its a bedside cabinet, a simple table or a small trunk.
Your clothes can be hung on a simple rail in the corner and your smalls under your bed in baskets but to make your bedroom look finished and designed you need to add a bedside table or two.
It dosnt even matter about the size of our room there are sizes and shapes for every room. This does not need to be expensive either, some of our favourite tables cost less than £50 but can make all the difference to the look of a bedroom and can also, depending on your choice, add more storage than you would think for makeup, hair dryers etc.
So in conclusion....
...You do need a bedside to complete your bedroom.
Bedside tables frame your bed, with a double have one on each side with a lamp to add some interes to the bedroom interior. We have included some examples of affordable bedsides that give a great look to your bedroom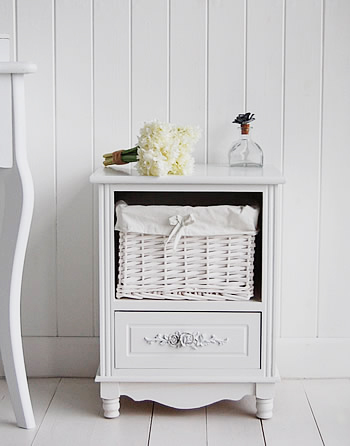 The Rose white small bedside table is a pretty bedside table, ideal for small bedrooms or a girls bedroom. The basket and drawer offer lots of extra storage to hide clutter.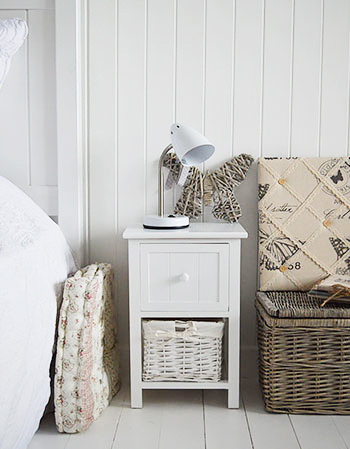 A petite bedside... so cute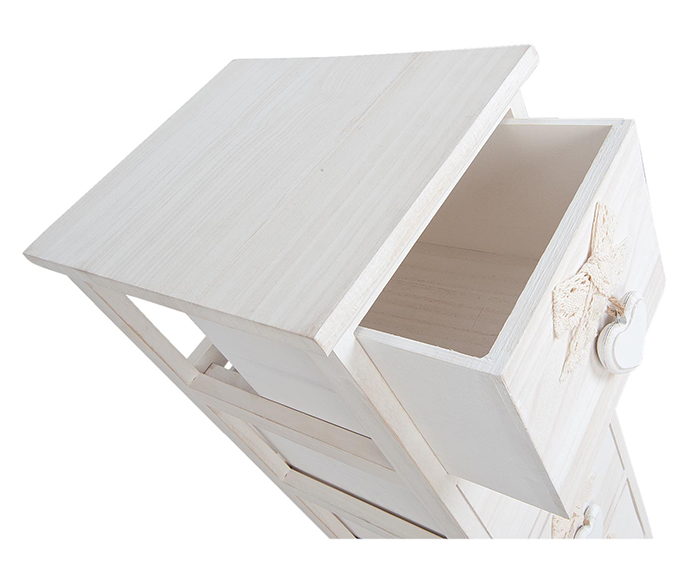 An extra slim bedside for when only little space is available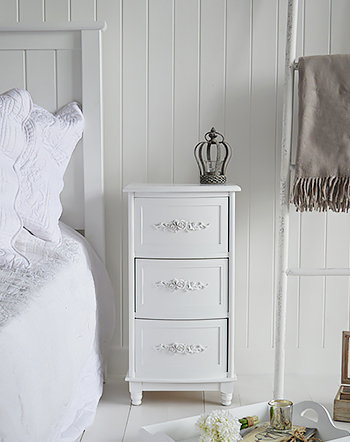 The Rose white bedside table with curved frontage and carved handles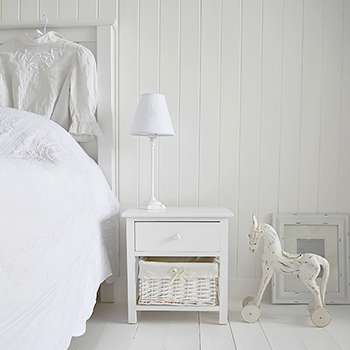 Simply white... A very cute bedside table that is affordable and stylish while giving two drawers for storage. The New Haven white bedside table. The simple straigt lines of this bedside table make it a perfect match for all white bedrooms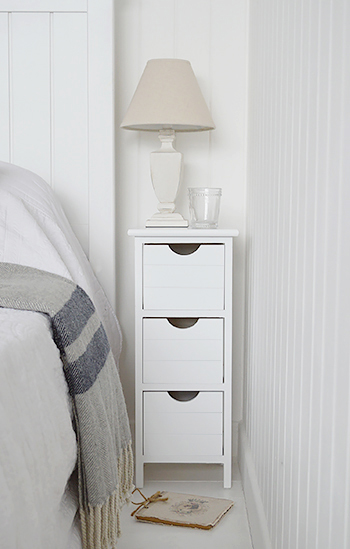 The Dorsrt narrow bedside table, designed by our team to fit into any bedroom space
.......................................................................................
See other articles
Bedside Tables are a necessity
Why a bedside table...
Scandinavian Look..
Create the popular scandinavian look in your bedroom.
How to Create a New England Style Bedroom
Some advice on how to create your very own beach style bedroom.
For your bedroom or dressing room
consider adding a dressing table to your room...
Choosing narrow bedside tables....
Having difficulty finding a narrow bedside table
White Children's Bedroom Furniture
Why white furniture is perfect for the children's bedroom.......
Your Little Princess...
Decorating a bedroom for little princesses
The Luxury of a Dressing Table
Sit down and relax at a dressing table...............
Ideas for bedside tables
Help on choosing a bedside table...
They Grow up so fast
Furniture to suit little princesses that grow up so quickly.............
How to Style Your Dressing Table
Some ideas and tips on how to dress and style your dressing table.....