At The White Lighthouse we think a white hall table is an essential piece of furniture in your hallway and so offer many different options to buy, a place to display white flowers, photos, and a lamp. When you enter your home, a place to set your keys and the post that has arrived that day.
The size of the table greatly depends on how much room you have in your hall as you do not want an oversized piece of furniture that you have to squeeze past or are always knocking into with schoolbags or as you bring your laundry upstairs. If you have a small hall, a lamp table is probably best.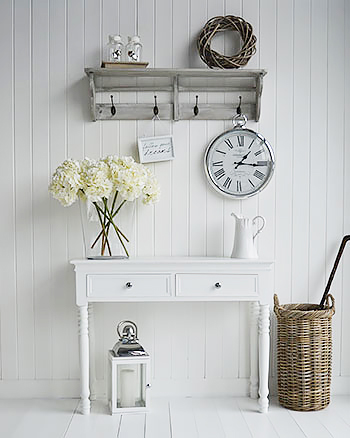 New England White Console Table
Preferably you will want a hall table with some drawers for the storage of pens, notepaper, keys letters and coins. Baskets under the table are perfect to for children to throw their shoes into as they come into the house instead of leaving on the floor!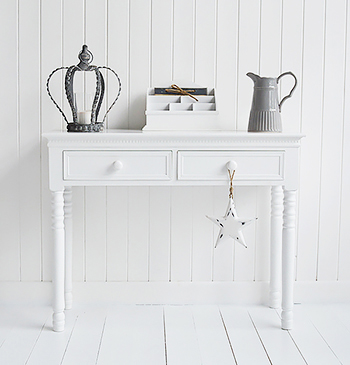 New England White Console Table
A white hall table will lighthen your hallway, does not matter what colour your walls are, a white table will alway complement any colour... white on white for a coastal New England look, or a dark wall with a white table for a clubhouse feel. For any home style, coastal, New England, country, cottage, French, suburban, a white hall table will match in perfectly.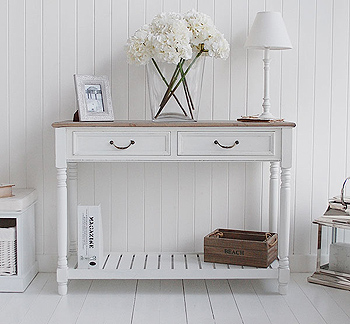 Brittany White Console Table
Add some artificial white Hydrangea to great you and your guests on arrival, and they will last for years. A very cost effective way to have flowers all year round.
Add a clock or a mirror abouve the hall table for a quick check before you leave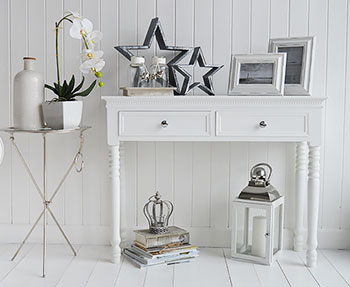 New England White Hallway Console Table
Depending on the rest of your hallway, add some interes with hemoe accessories. Here we have added a few silver pieces with the white to complement the handles for a luxurious feel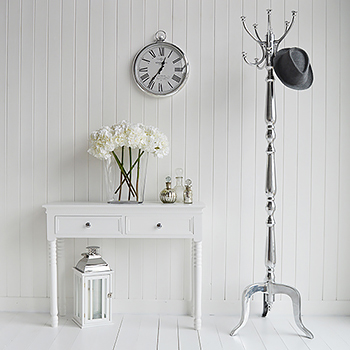 New England White Console Table
By adding a coat stand in your hall you will not need much more furniture to complete.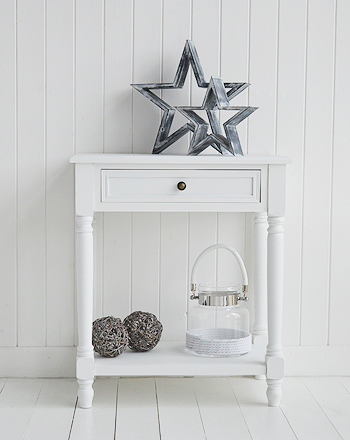 Cove Bay White Console Table
Depending on the size of you hall you may need to choose a smaller console table, this Cove Bay table is perfect with a drawer and a shelf.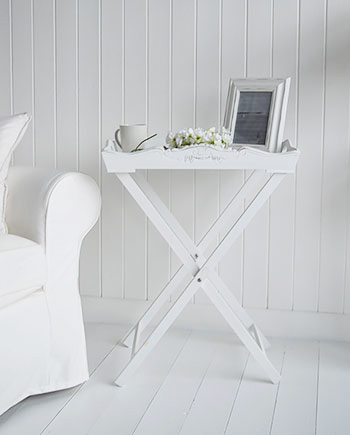 Butler Table
A simple tray table is enough if you just want to add a lamp to your hall.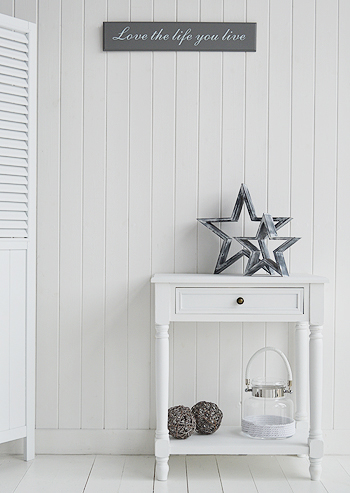 Coe Bay White Console Table
A chest of drawers is a great idea for a hallway console table asit gives massive amounts of the extra storage needed.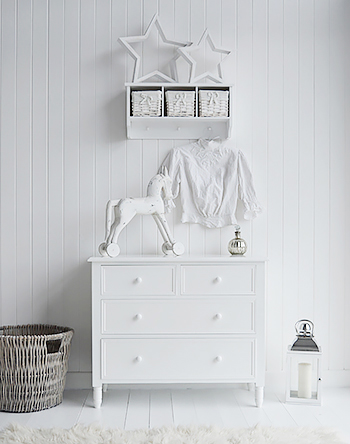 New England White Chest of Drawers
If the hall is small, the Brittany lamp table is a great option...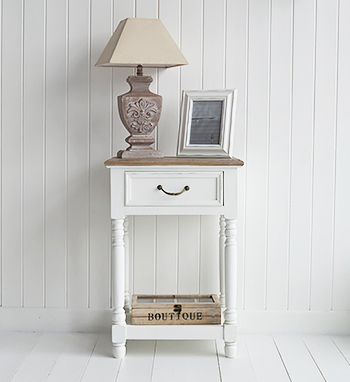 Brittany Small White Hall Table
Hopefully you now have a few more ideas on what to look for in choosing a hall table