Console Table in White, Grey and Cream
Console tables, most often found in as hall furniture pieces, provide style and functionality, they add storage and extra surface for lamps and flowers giving you a warm welcome as you enter your home.
The White Lighthouse offers a range of white console tables in our characterisitc mixes of coastal, Scandi, Danish, French and Shabby Chic style furniture... see the full range of hallway furniture
A main deciding reason for choosing a console table is the size of your hallway, you should select as large as is feasible. For small hallways you may be best considering a small console table such as a lamp table, but whatever your choice make sure the table offers some additional storage such as drawers for everyday bits and pieces including coins, pens, keys that create general disorder. Position a basket under the console for storage of shoes or bags. A white console table will reflect light and invade the whole space giving the impression of a larger area. A console table will also provide display space for lamps, photos and your favourite home decor pieces. For greater organisation on your table we love our keys and coins boxes as well as our letter racks. For some help on decorating your table see our article on how to... style your console hall table.
The White Lighthouse Console Tables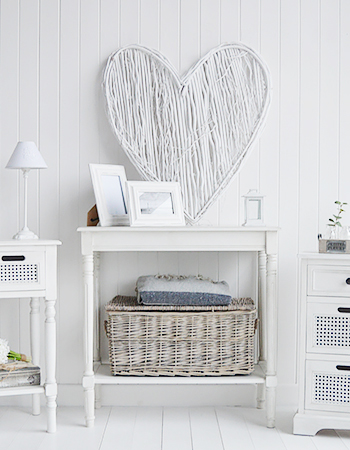 An all white hallway, an ideal style when designing a coastal interior. Clean, bright and fresh for a fabulous hall or living room.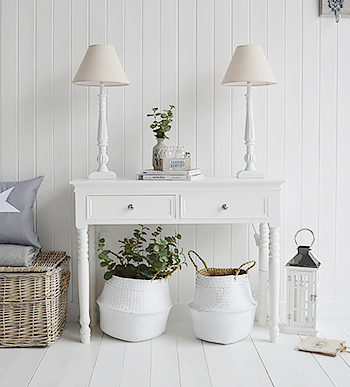 The New England white console table, styled with symmetrical tall white lamps to create a centre piece for a dramtic look in your hallway. For more advice on New England hall way furniture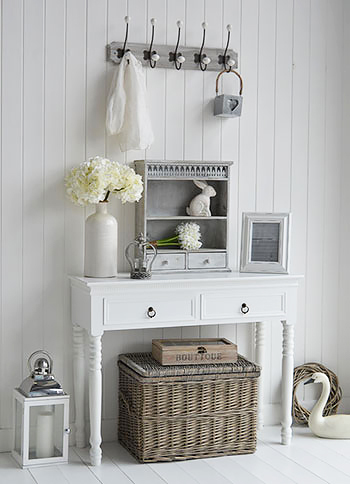 The New England hallway table for a country style home. Adding a lot of home decor accessories gives it a more cosy feel making it ideal for those cottage homes.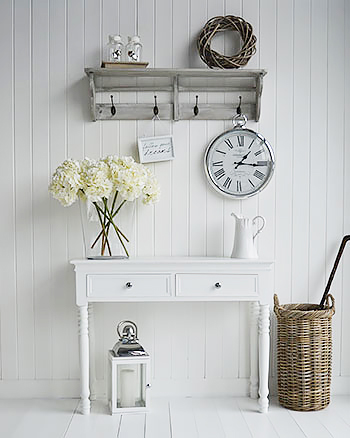 Adding an umbrella basket and a coat rack is all the furniture you need for hall furniture, the table is the centre piece white the rack is the functional side.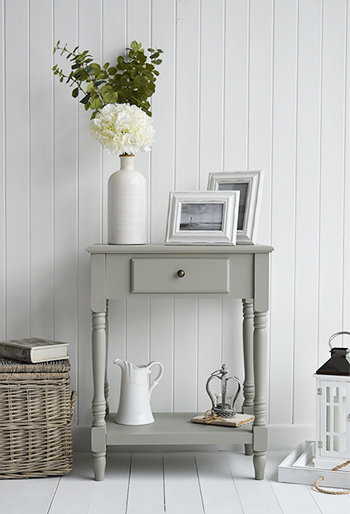 The Charleston Grey, a deeper colour of grey, reminiscent of the french style of colours. Looks as fabulous against a contrasting white wall as it does blending in with the tonal darker colours of walls.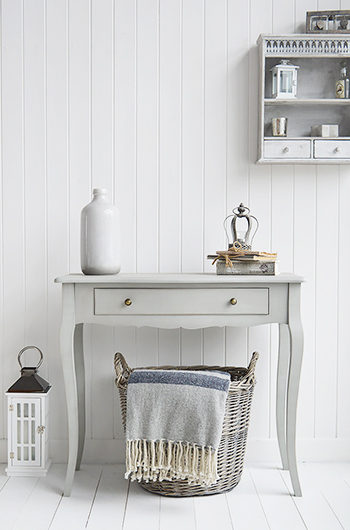 A pretty grey table with a large drawer. We love the the colour and the large drawer for storage. The curved legs with the frontage design make this such an elegant table suitable for all hallway interiors.